Best Scuba Diving in Bali
Among 17,000 other islands in Indonesia, there is a reason why Bali stands out. It is riddled with stunning beaches, each offering an experience of its own; white soft sand, lush mountains, limestone cliffs, and spectacular dive sites. It is a place that is rich in its culture and known for all the natural beauty it possesses.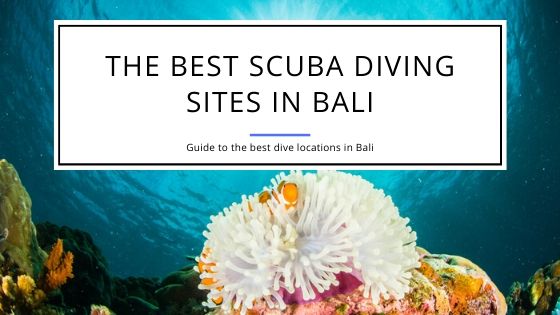 If Bali is on your list as a vacation destination, you should also put it on your list for your next dive! The island offers a multitude of exquisite dives all around, with amazing corals and marine life to experience. Below, we have listed our 5 favorite spots to dive and everything else you need to know about scuba diving in Bali.
Why Dive In Bali?
The "Island of the Gods" is known for how blessed it is with natural wonders; from beautiful beaches to colorful coral reefs. All four corners of the island offer divers their choice of unique experiences in terms of dives and marine life. You will see colors you didn't think could be so bright and strange fish you have never heard of swim by you. Bali is a favorite amongst divers for a reason!
The island offers world-class diving locations, whether you want to enter from the shore, long-board or even take a boat; each site is majestic in its own way. There are multiple wrecks that lay under the water, just waiting to be discovered – just like the strange, but very cool aquatic life!
Is It Good For Beginners To Dive In Bali?
Bali has multiple dive sites that have options for divers just starting out all the way to advanced divers. The diving locations are plentiful and there is a lot to discover for divers of all experiences. Most sites on the island offer dives for all levels of expertise.
Is It Easy To Get There?
There are two international airports that are present in the South Kuta district, close to Denpasar, which is known as the capital of Bali. Ngurah Rai International Airport, also known as Denpasar International Airport, has frequent flights from major airlines all over the world. If you are flying into Jakarta (the capital of Indonesia), you can take a 23-hour long bus ride to Bali, but we recommend just taking a local flight to the island – Can you go to Dive after Flying? – Flying and Scuba Diving
Are There Good Dive Sites for Families?
Bali is a destination a lot of people go with their families, which is why the island offers multiple locations where you can dive as a family. There are many places you can visit, but Amed is highly recommended for families who want to scuba dive and snorkel together.
What Aquatic Life Can You Find?
The sea around Bali is known not just above the ground for its beautiful beaches, but also below for its magnificent coral reefs. The corals are healthy, vibrant and spread out, forming breathtaking views before the water. The thriving flora attracts a variety of multicolored reef fish; the quickly moving fish above the colored coral make for an awe-inspiring scene.
Some of these fish include the mandarin fish; this tiny creature looks like it has been given bright turquoise and vibrant orange tribal paintings all over its body. They aren't very common, but if you get to see one, you'll be in love! Speaking of fish that look like paintings, you can also spot the clown triggerfish. Whitest of white spots against a velvety black body and bright yellow accents make this fish one you have to see!
If you are after some of the must-see marine animals for divers anywhere, Bali is also home to giant Manta Rays that you can find in the waters around Nusa Penida. Diving here, you might get a chance to see the critically endangered hawksbill turtle. Though it is rare to spot one anywhere else, their population is thriving in Bali. Bali is also home to the white tip reef shark. This is one of the smaller sharks of the bunch, stretching only 1.6m in adulthood, but still an extremely magnificent creature to see under the water.
If you are looking to experience some unique marine life, Bali is no stranger to the weird creatures of the sea. You can witness the "jewels of the sea", nudibranch moving around on reefs and sea floors. They are multicolored little sea slugs that are a lovely sight to see.
One thing to definitely see is the distinctive mola mola, also known as the sunfish. Divers put seeing this fish on their bucket list because of its strange shape. This fish is huge and laterally flattened; if you're going to get a photo, get it from the side!
Finally, if you can catch them before they catch you, you might see a mimic octopus. These creatures don't just camouflage, they contort their bodies to look like other fish! You might think you're looking at one thing, but you might be looking at another.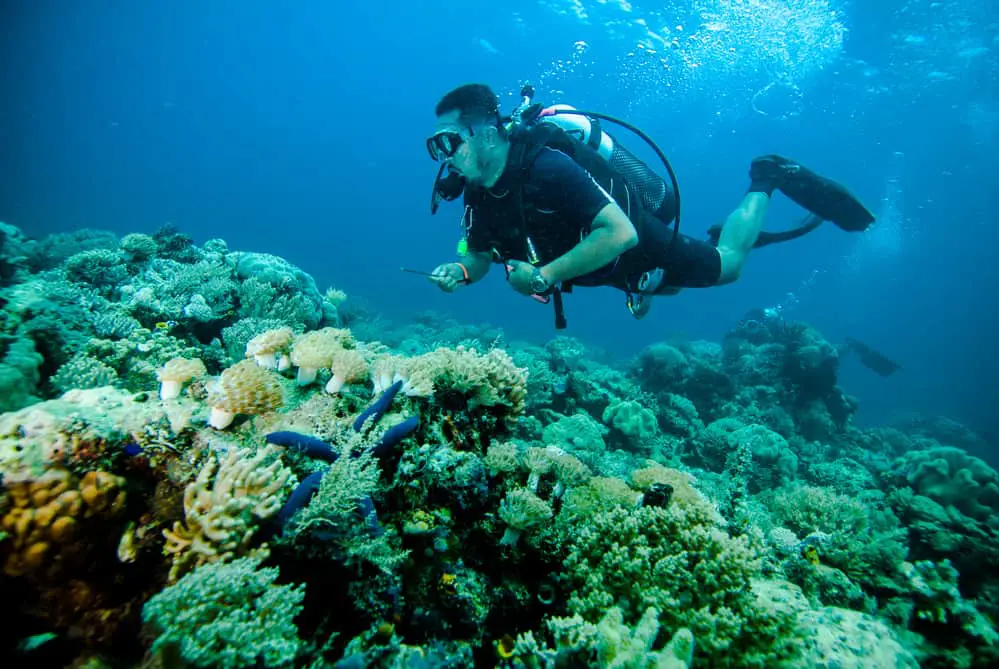 Best Scuba Diving Destinations in Bali
POS II, Menjangan
Menjangan Island is a small piece of land that is part of the West Bali National Park. It is known for its easily accessible wall dives and good visibility. Though it is not a place to view big fish, you can see attractive small creatures like the pygmy seahorse and vast, vivid coral gardens. POS II or Position 2 is one of the best wall dives Bali has to offer that is 40m deep.
Level of Expertise Required
Intermediate to expert level divers.
USAT Liberty Wreck, Tulamben
This historic US cargo ship was hit by a Japanese torpedo in 1942. It was pulled to shore at Tulamben only to be pushed right back in 25m by a volcanic eruption. The depth of the wreck varies from 9m to 30m, making it a great site for any level of diver. It is also known as the third best wreck dive in the world even though the penetration of the vessel is not possible.
Level of Expertise Required
All levels can dive here.
Mimpang, Amuk Bay
This dive is perfect for those looking for adventure. Soft coral and gorgeous rock formations make up this site, but only if conditions permit you to go there. The water here is known for its strong underwater currents, so it is not recommended for beginners. This is also the spot to go if you want to experience swimming with sharks and see the exotic mola mola.
Level of Expertise Required
Expert divers only.
Crystal Bay, Nusa Penida
Getting its name for its crystal clear visibility year-round, this colorful site is one you want to visit to see the notorious nudibranchs. Be warned though, the site is also known to have strong currents, so don't jump in without checking the conditions. Like the previous location, this one is also known for its mola mola sightings; visit between July and September for the best chance to see one!
Level of Expertise Required
Some experience is required.
The Wall, Amed
Close to Tulamben, Amed is a great place to dive if you want to discover creatures you have never seen before! You can access the wall through a short five-minute boat ride. Once in the water, you will see the wall clustered with colorful coral like the gorgeous gorgonian. There are plenty of opportunities for photo-ops in this water that has impeccable visibility.
Level of Expertise Required
Advanced divers.
What Specific Gear Do You Need To Dive In Bali?
It can get pretty tedious carrying around dive equipment on holiday, so it's great that Bali is well equipped for tourists coming in to dive. You are most likely going to be able to rent any of this equipment very easily. With each location, your guide will be able to tell you what equipment is absolutely necessary, but here is a list just in case:
Compulsory Gear for Regular Dives (Scuba Diving Gear List – The Complete Dive Equipment Guide)
Additional Gear for Wreck Dives
Is It Dangerous To Dive In Bali?
Depending on the dive and your level of experience, the danger associated with these dives varies. All dives should be performed with some level of caution.
Bali does have some sites that are known for their strong currents and unpredictability, so make sure you check in with the local dive center before jumping in. Wreck dives pose dangers of their own, so they should be approached with an extra level of caution and should only be entered by experienced divers or under expert supervision.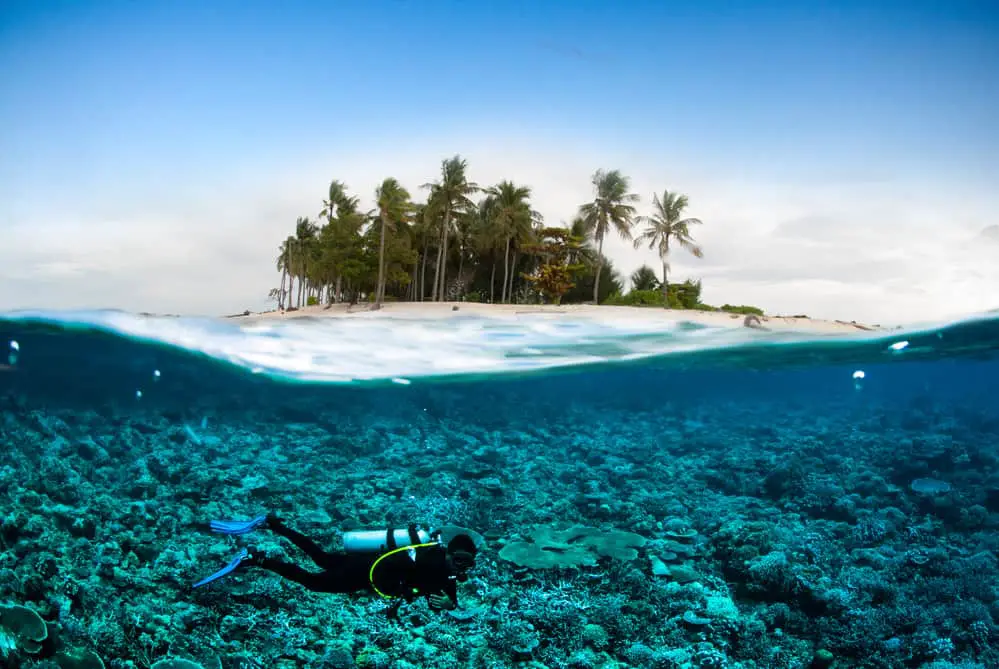 Final Thoughts 
Whether you are above ground or below the water, Bali is a destination that should definitely make it on your travel list. Unique sea creatures and colorful coral reefs make this a must-visit site for any diving enthusiast.