Best Scuba Diving Destinations in Belize
Are you a scuba diving enthusiast who has been looking for the perfect destination to go on your next scuba diving adventure? Boy, do we have the ideal destination for you! You might not think a tiny nation like Belize would have much to offer in terms of scuba diving, but you would be very wrong.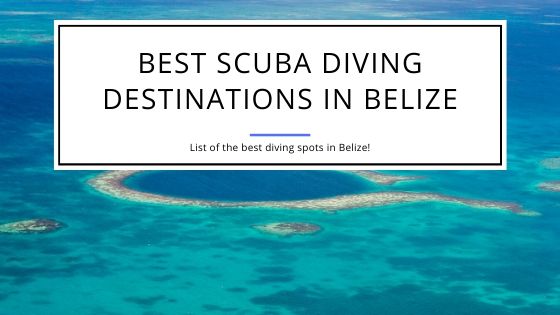 Have you ever thought of diving in an indoor pool? What are the deepest indoor scuba diving pools?
Below we will discuss everything you need to know about scuba diving in Belize; from why you should pick Belize to our favorite destinations, and even the equipment you will need – we have got it all covered!  
Why dive in Belize?
Belize is a tiny country located in Central America, bordered by Mexico and Guatemala, with its east coast lined by the Caribbean Sea (have a look at the best destinations for diving in the Caribbean!). Belize may be small, but it is packed full of hidden gems for divers. It has extensive coral reefs that stretch over 190 miles and are known as The Belize Barrier Reef. This reef houses over one hundred coral species and over five hundred types of fish (with only 10% of the reef researched). This reef hosts about 150,000 visitors each year because of its beauty and magnitude. 
Belize is also home to the infamous Great Blue Hole. This is a huge marine sinkhole off the coast of the country that has crystal clear water and underwater caves full of natural treasures. It is circled by beautiful coral reefs that have a multitude of colorful fish species and magnificent sharks. The Great Blue Hole is among the top five scuba diving sites around the world.
Is it good for beginners to dive in Belize?
Belize is full of different sites you can go scuba diving at. Because of its abundance of diving locations, Belize offers divers of all levels of expertise a place they can go to. There are still sites in Belize that are being discovered as diving spots. A newer one on the list is the Turneffe Atoll, which is a great destination for newer divers.  
Is it easy to get there?
The best way to get to Belize is to fly there via their international airport. There are nine airlines that fly into the S. W. Goldson International Airport (BZE) in Belize City.
Five of them are US airlines (American Airlines, United, Southwest, US Airways, and Delta), while the other four are international. The international airlines fly in from different destinations, so you can plan your trip according to what location is closest to you.
Avianca Airlines fly in from San Salvador and El Salvador, Copa Airlines fly in from Panama City, Tropic Air flies in from Cancun and a few other Mexican detonations, and finally, WestJet flies in from Toronto. American Airlines also offers a flight out of London that has a short layover in Miami.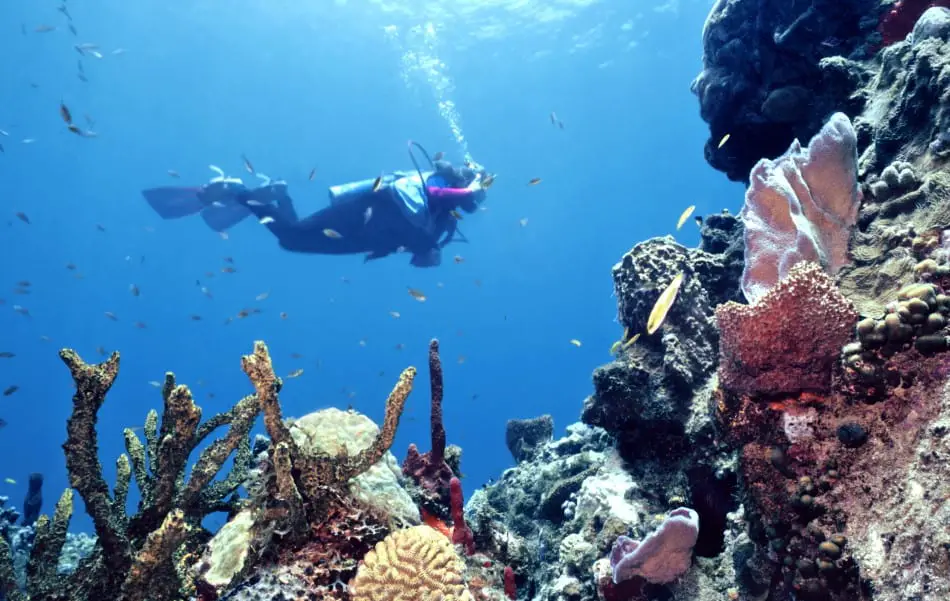 What aquatic life can you find?
Belize is rich in its sea life. It is home to hundreds of different species of fish and other aquatic creatures. You are sure to see all sorts of colors, shapes, and sizes under the water, but the country boasts some famous species as well. Belize is well-known for whale shark spotting, as well as the reef shark, hammerhead, and lemon tip sharks (do sharks get drawn in by yellow?).
Apart from sharks, you can spot a number of other marine life in Belize, including sea turtles, manatees, dolphins, and a few different types of ray fish. You can witness three different types of rays in Belize; the southern stingray, the eagle ray, and the manta ray. These unbelievable creatures can be seen gliding through the water at a few different dive locations in Belize.
There are a great many other fish and aquatic creatures you can spot in and around the mainland and the islands, which is why it is such a popular scuba and snorkeling destination. 
Best Scuba Diving Destinations in Belize
The Belize Barrier Reef
This barrier reef is a collection of coral reefs that runs along the eastern coast of Belize in the Caribbean Sea. The reef is classified as a UNESCO World Heritage Site because of the aquatic life that calls it home. It is beautiful and colorful; with many coral species and hundreds of different fish species.    
The Belize Barrier Reef lodges most of the dive sites of Belize that are mentioned below.
The Great Blue Hole
Though divers can't reach the bottom of this 125-meter deep sinkhole, the location has a great many caves and stalactites, and reefs that have all sorts of sea life. It is a bucket-list destination for many scuba divers because of its beauty and magnitude.
Dive tours at the Blue Hole are usually full-day trips lasting a minimum of 11 hours. The country of Belize is quite small, so you are likely to find resorts and hotels close to almost all attractions.  Since the hole is off the coast, you can take a boat booked as part of your diving experience to the actual dive location.
Level of Expertise Required:
All levels of divers are welcome here.
Marine Life you are Likely to See:
Nurse sharks, reef sharks, midnight parrotfish, angelfish, and butterflyfish.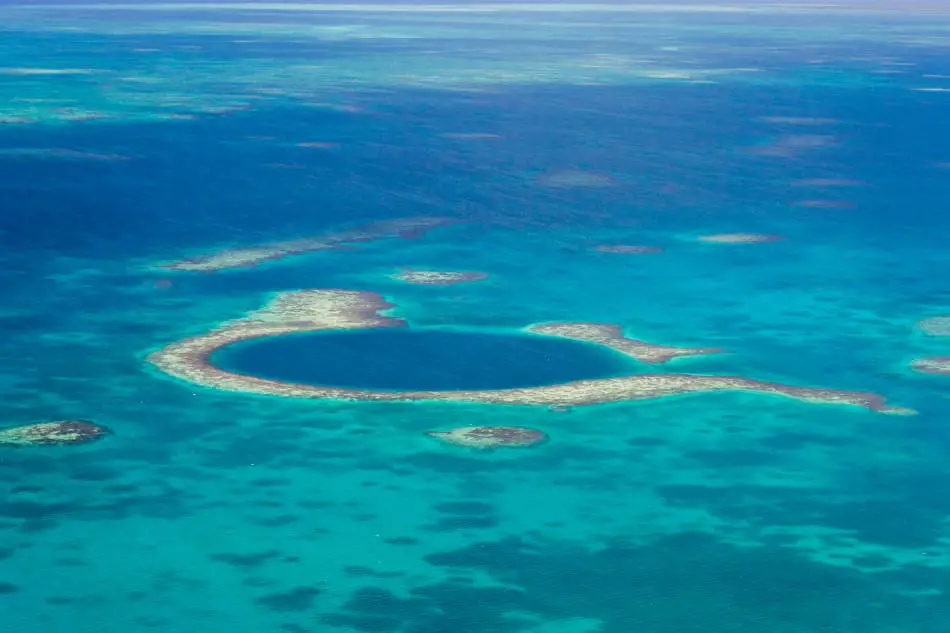 Hol Chan Marine Reserve
This is the smallest marine reserve in the world, standing at only 4.8 square miles. It is only 27 feet deep and has one of the highest concentrations of sharks and rays in the world.
This is one of the most popular dive sites in all of Belize because of its proximity to San Pedro and a large variety of locations and fish. The reserve also offers night dives, which is a great way to see fish you might not spot in the day.  
Level of Expertise Required:
The dives here are divided into zones, and each zone requires a different level of expertise. From beginners to cave-diving certified divers can visit here.
Marine Life you are Likely to See:
Rays, sharks, flying fish, snappers, and barracudas.
Shark Ray Alley
This used to be a site where fishermen would bring their daily catch and clean it. The tossing of fish parts attracted ray fish and reef sharks to the area. This location is usually included in the Hol Chan Marine Reserve scuba tour but deserves a separate mention because of the abundance of sharks and rays in the area.
Level of Expertise Required:
It is better for snorkeling (how do you snorkel without swallowing water?) because the water isn't very deep. It is perfect for beginner-level divers.
Marine Life you are Likely to See:
Reef sharks, Southern stingrays, sea turtles, eels, and lionfish.
Laughing Bird Caye
This island is located at a 45-minute boat ride off the southern coast of Belize. It has relatively shallow waters that are clear and warm. Though the island might not have much marine life like the other locations in Belize, it does have plenty of vibrant corals that are a great sight to see.
Level of Expertise Required:
Best for beginners; it might not be exciting enough for experienced divers.
Marine Life you are Likely to See:
Sea turtles, moray eels, barracudas, lobsters, and crabs.
Gladden Spit
Gladden Spit can give you an experience of a lifetime if you are lucky. Located near the southern coast of Belize, right on the barrier reef, this location is beautiful both under and over the water.
Only for ten specific days after the full moon in the summer months, you will have the chance to see the coveted gentle giant, the whale shark. They come here to eat the eggs laid by snappers during this time – giving divers the chance to see these glorious sharks when they are playful and happy.  
Level of Expertise Required:
It is recommended for experienced divers.
Marine Life you are Likely to See:
Whale sharks, snappers, and the endangered hawksbill turtle.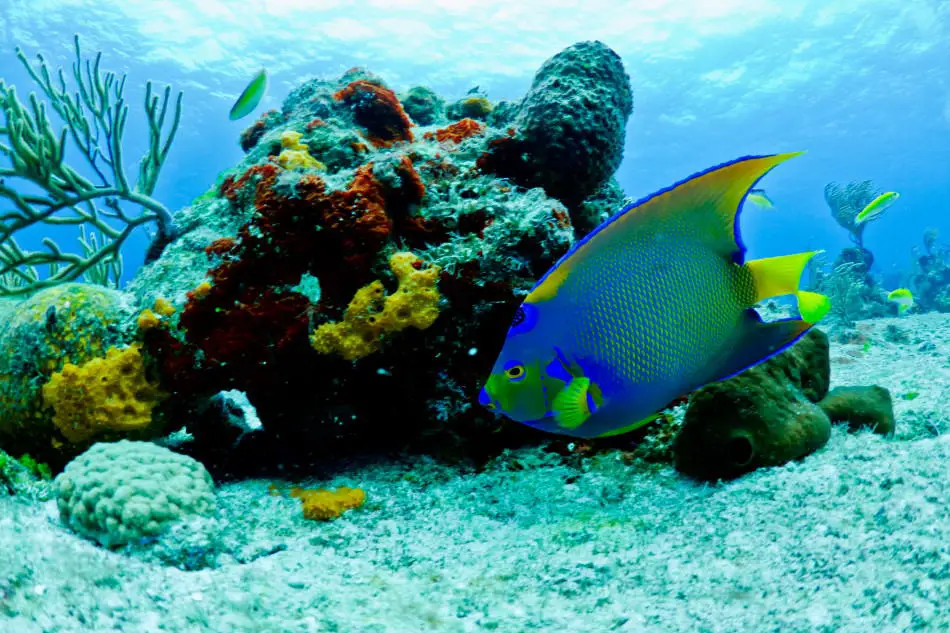 Half Moon Caye
The Half Moon Caye has many underwater tunnels and submerged canyons, which are filled with marine life. This wall dive off the coral reef is usually offered as part of the Great Blue Hole dive but is a completely different experience. It is extremely colorful, vibrant, and full of tiny fish species that shoot in and around the reef.
Level of Expertise Required:
Adventurous, experienced divers will get the most out of diving here.
Marine Life you are Likely to See:
Octopus, groupers, eels, and tarpon.
What specific gear do you need to dive in Belize?
It is very unlikely that you will be traveling with a bag full of diving gear, especially if Belize isn't your only destination on a trip. However, because Belize is a frequently visited scuba diving destination, you are most likely to be able to rent any of this equipment very easily.
With each location, your guide will be able to tell you what equipment is absolutely necessary, but here is a list just in case:
Compulsory Gear
Optional Gear
Is it dangerous to dive in Belize?
Like with any adventurous sport, there is a level of danger that comes with scuba diving. This is not just specific to diving in Belize. Scuba diving is a sport that requires a level of training, stamina, and fitness.
The good thing about diving in a place like Belize is that there are known diving locations; local trainers and guides would be comfortable with the water, and will probably help you out of any sticky situation as long as you keep communication up.
Check out the best scuba dive destinations in Baja California!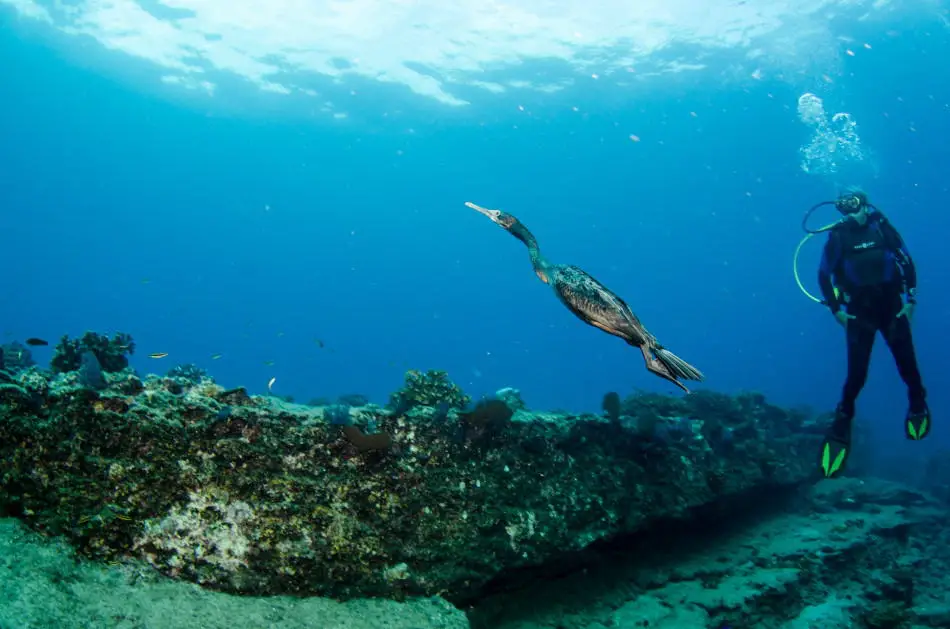 Can you go diving when you have Asthma? What do you have to consider?
Final Thoughts 
You might not have thought of the small country of Belize as your next diving destination, but what this nation lacks in size, it makes up for in its quality of experience. Some of the dive locations off the barrier reef are as good as it gets in terms of scuba diving around the world.
In addition, you get the opportunity to swim with the magnanimous whale shark. It really doesn't get better than that!
What do you need to know about surface intervals when you go diving?