Best Scuba Diving in Fiji
Fiji is an extensive group of over 300 islands that exist in the South Pacific. It is known for its pristine beaches, picturesque landscapes, and crystal-clear blue coasts. On the islands, you can see the beautiful British colonial inspiration in the architecture, but under the water, you can see how unspoiled the habitat is.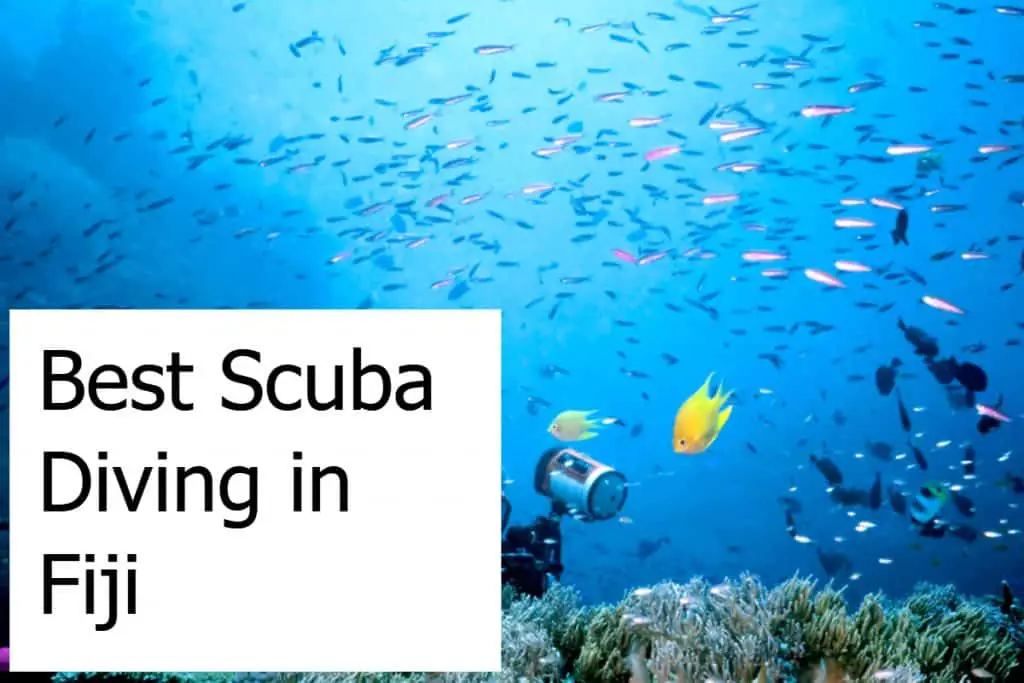 Fiji is on the top of the list for scuba diving destinations for many divers, and there is no denying why. The water is full of flora and fauna of all kinds, making it an ideal scuba diving experience.
Below we will discuss why Fiji is the place to go for scuba diving, and all our favorite spots:
Why Dive in Fiji?
333 islands surrounded by beautiful blue clear water just ready to be dived into; why wouldn't you want to scuba dive in Fiji? Apart from the warm weather and the gorgeous landscapes of the islands above ground, Fiji houses a truly magical world under the water. It is known as the soft coral capital of the world, meaning divers can witness how undeniably vivid the colors Mother Nature produces can be.
The water surrounding the islands is warm and inviting. Divers are able to see the effects of swimming through water enriched with nutrients – the marine life that exists in Fiji is unmatched. The coral reefs are home to over 1000 different reef fish from tangs to clownfish and butterflyfish. There are also larger pelagic fish species in abundance like sharks and rays. Fiji is also frequented by humpback whales, dolphins and sea turtles; all these species make diving in Fiji an awe-inspiring experience. 
Fiji offers 70 different dive sites, each holding a different and unique experience for scuba divers. From different landscapes and marine life to the different colors of the coral present in the area, Fiji is truly a diver's paradise.
Is It Good for Beginners to Dive in Fiji?
Fiji has 70 different dive sites scattered amongst 333 islands, all offering unique dives and experiences. Because of the abundance of places to dive, there are sites available for all levels of divers. There are some sites that have strong currents and deep water that is not recommended for beginners, but for the most part, divers of all levels can find a site to dive at different locations.
Are There Good Dive Sites for Families?
Since Fiji is known for scuba dives and snorkeling, locals have taken advantage of it and made many dive resorts. Some dives are available for all levels of diving experiences, making them delightful family excursions. You can find resorts that offer all kinds of experiences and even 5-star family diving experiences in Fiji like the Jean-Michel Cousteau Resort in Savusavu.
Is It Easy to Get There?
Though it is a popular holiday destination, Fiji is in a remote location, so the question often arises: how do you get there? Unless you are flying out of New Zealand or Australia, there are limited flights that fly into the Nadi International Airport. If you are flying out of the US, the only direct flight is out of LAX; you will most likely have to start your trip there to go to Fiji. Traveling to other islands in Fiji is mostly done through seaplanes and limited local airlines.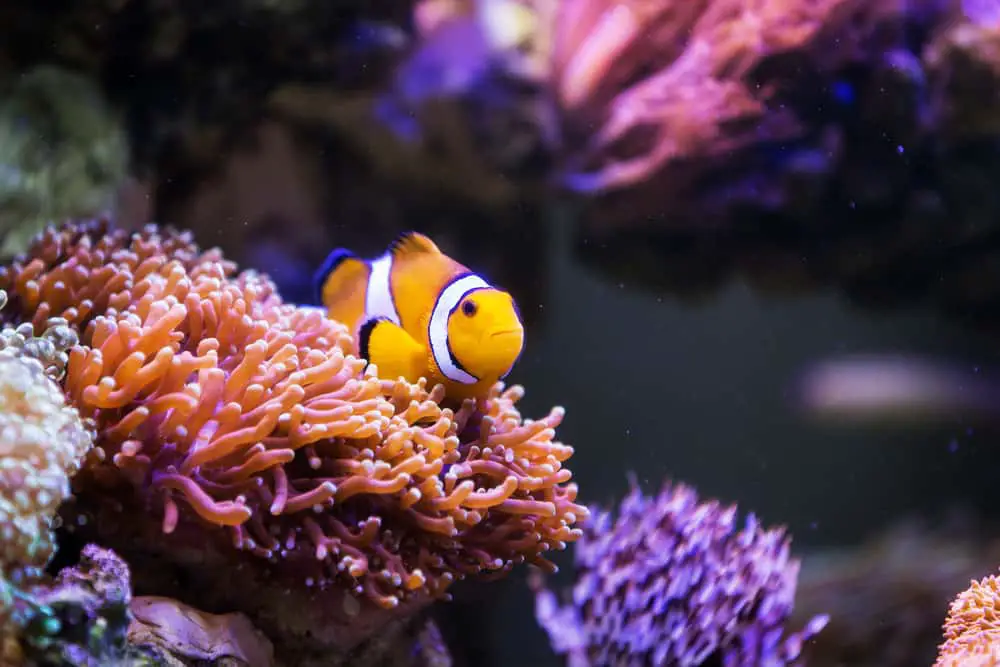 What Aquatic Life Can You Find?
Fiji is known as the soft coral capital of the world and there is no questioning it because it is home to over 300 different species of soft coral, and just shy of 100 different species of hard coral. Hard coral species include the unique spiral wire coral, which looks like a coiled-up wire. The soft coral species in Fiji are impressive, including the fluffy Nephtheidae that can be seen in different hues of pink and yellow, gorgonians that have a firm skeleton and look like an intricate root system standing upright, and leather coral that is seen in shades of green and beige.
The extensive coral species provide an ecosystem where other fish and marine creatures can thrive. You are likely to see the venomous yellow-lipped sea snake slithering around, or the easily angered moray eels, and even harmless jellyfish. Other than that, the corals are home to an astounding 1200 different species of reef fish.
Some of the reef fish you can find hiding among the anemones is 5 different species of clownfish. One of them is the infamous Nemo from Finding Nemo; bright orange with white stripes. You can also see many species of triggerfish in all colors swimming through the coral; they can be identified by their big lips and human-like teeth. You are also likely to see the masked butterflyfish; it is bright yellow and looks as if it is wearing a masquerade mask on its eyes.
Massive schools of yellowfin goatfish will swim by you near the corals, and if you look down, you will see the low-swimming leopard shark. You might also think you see a squid hiding in the coral, but it's probably a cuttlefish! 
Fiji is also home to 5 out of 7 critically endangered species of sea turtles. You can find the green sea turtle and hawksbill swimming around pretty commonly, but if you're lucky, you will also see the Oliver Ridley, leatherback and loggerhead sea turtles too! Divers are coaxed not to touch the turtles as they can spread bacteria, which can be fatal for the turtles.
Seeing rays in the Fijian water is also common; you can spot reef manta rays and giant mantas swimming around in shallow water.
In 2003, Fiji declared that its waters are now a whale sanctuary after they realized the dwindling humpback whale population that was once thriving. Since then, the whales have started making their way back to this area and are seen a lot more often. Apart from humpback, you can see many other species of whales, such as sperm whales, minke whales, blue whales, and false killer whales, to name a few. Not only whales but dolphins are also commonly seen here; sometimes, you can see super pods of over 1000 bottlenose dolphins swimming together to hunt. Spinner dolphins are also native to this region.
You don't have to be far out in the ocean to encounter sharks in Fiji. The warm water here is home to 12 different species of shark, and divers report seeing at least 1 or 2 sharks per dive. Some species of these magnificent creatures that you can witness are bull sharks, tiger sharks, oceanic whitetip sharks, blacktip reef sharks, and nurse sharks.
Best Scuba Diving Destinations in Fiji
With so many different dive sites available across the islands, it is hard to choose the top dives. However, below we have divided up the best areas to dive, some offering multiple sites, and some of the best sites as well. Here are our top 5 picks:
Bligh Water
Predominantly reached through liveaboards, this is one of the locations that make Fiji known as the soft coral capital of the world. This stretch of water consists of 25 different dive sites that have depths ranging from 5m to 40m with strong currents; it is recommended for experienced divers only. The dive sites are made up of tall pinnacles that can reach up to 900m in length from the floor. They are colorful and covered with soft corals; you will be in awe of all the pastel hues of pink, purple and yellow. Some of the outer dive sites at this location break way from the sight of reef fish, and you can see reef sharks and the occasional hammerhead too! These sites are often visited by manta and eagle rays as well.
Manta Ray Island
This island is obviously named for its abundance of manta rays that visit from the month of May to October. The island offers multiple sites, but what divers mainly go for are the manta rays. This site can be accessed through a short boat ride off the island. There are scores of rays that can be seen, and tour guides will even notify divers staying in nearby resorts when the rays are out to feed, giving them a chance to see them when they are most abundant in the water.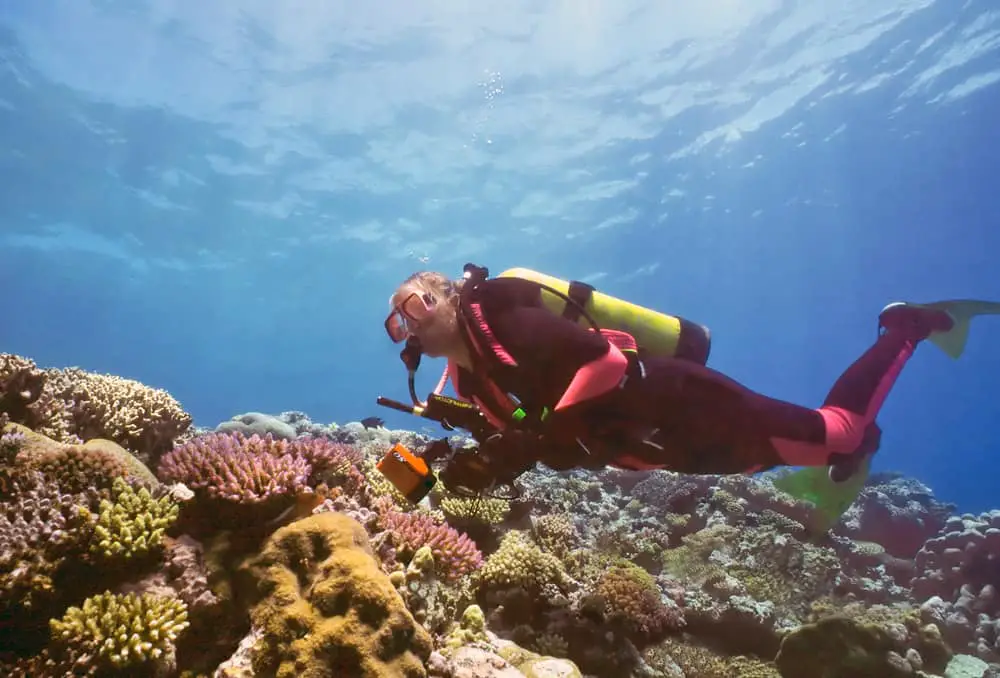 Rainbow Reef
This is one of the most picturesque dives you can take. This is a reef that looks like a wall covered by a rainbow. The soft corals that cover the wall come in all colors, shapes, and sizes, making for a wondrous dive. There are many anemones on the reef too, which are home to many different reef fish. You will see little colorful fish swimming in and out and around the reef; it is a diver's dream. Little fish aren't all you will see here; Rainbow Reef is also home to reef sharks, tiger sharks, barracudas, and manta rays.
Great Astrolabe Reef
This is the third-largest barrier reef (at 100 kilometers long) in the entire world, but it hasn't been commercialized, which is why it is completely preserved for divers' experience. The reef has multiple dive sites that can be accessed through the shore or through dive boats. Each site has varying currents and depths from 5m to 40m; ask a guide to help you determine which site would be best for your level of experience. You can see a large variety of reef fish, and at some sites, you can even see passing manta rays. Overall, the sites at this reef are nothing less than outstanding!
Beqa Lagoon
Pronounced Benga, this location is a favorite amongst divers. The sites have little to no current with depths ranging from 5m to 30m, making them available to divers with all levels of experience. The sites here have something for everyone; there are pinnacles and bommies, reefs and even some wrecks. No matter what you are looking for in a dive, in Beqa, you won't be disappointed. Though it is not as densely packed with coral as the other sites in Fiji, you can still find an array of fans and soft coral at these sites. However, you are likely to see sharks and octopus. The best part about these sites is that the water is extremely gentle and warm all year round!
What Specific Gear Do You Need to Dive in Fiji?
It can be a mission to lug around a bag full of heavy diving gear while traveling. Thankfully, the islands of Fiji are frequently visited just for scuba diving. You can likely rent any of this equipment very easily. With each location though, your needs might change; your guide will be able to tell you what equipment is absolutely necessary, but here is a list just in case:
Snorkel
Diving mask
Scuba tanks
Regulator
Wetsuit
Fins
BCDs
Weights
Is It Dangerous to Dive in Fiji?
Scuba diving shouldn't be taken lightly in any situation. All safety precautions should be taken before entering any dive. There are dive locations in Fiji that have stronger currents, which require some experience and control of buoyancy, while others have marine life that can be dangerous if not handled with care.
Always take the help of a guide when entering the water, and make sure you are told about any specific dangers at each site. If you follow your instructor's instructions and take other precautions into accounts, the dive should be nothing less than a spectacular experience. 
Final Thoughts
With excellent visibility, warm water and countless species of marine life, Fiji is one of the best places to go for scuba diving. If you know the kind of experience you want to have, swimming with sharks, looking at reef fish or witnessing unique underwater architecture, you just need to pick the corresponding site at one of the islands and book a dive tour there! Fiji is the absolute ideal scuba diving destination.
Please use the image below to pin to Pinterest!