Oceanic OCi Dive Computer Review
This wristwatch style dive computer by Oceanic is excellent for new and experienced divers alike. The Oceanic OCi dive computer is a wristwatch style computer.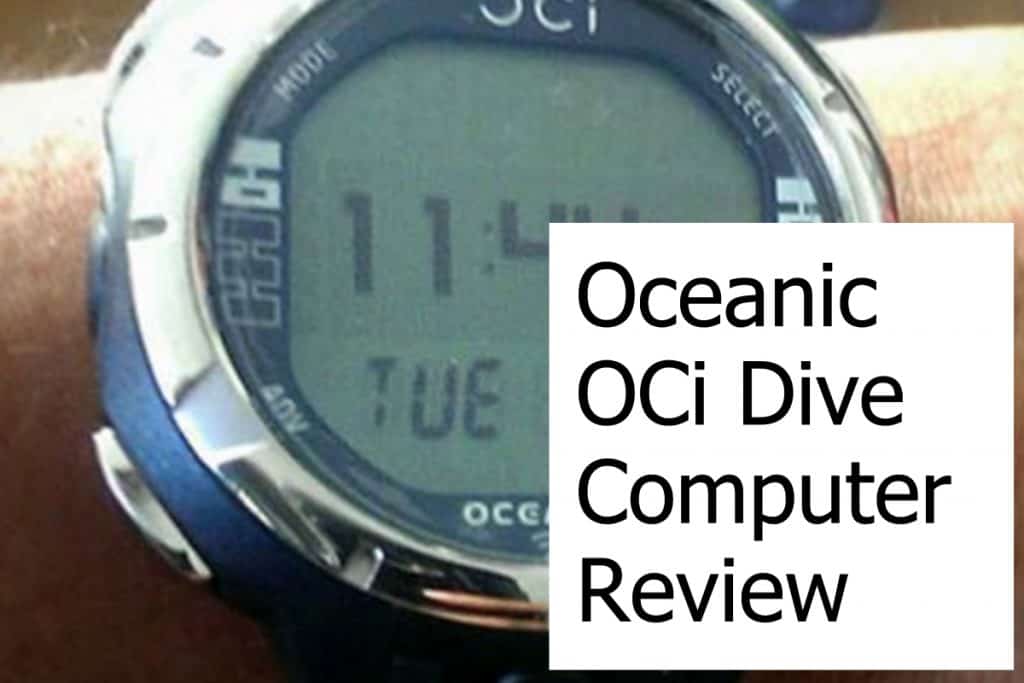 It features four buttons that allow you convenient on-screen navigation. The display is large enough to be seen underwater, and the backlight works well at depth to illuminate the display. Some may find the screen is a little too small compared to the larger touchscreen style dive computers.
The optional wireless air integration makes this an excellent, moderately priced dive computer. The wireless air integration (Best Air Integrated Dive Computer with Transmitter – Reviews and Buying Guide) limits the hoses that you will have surrounding you, making your dive seem less cumbersome. With four air mixes and nitrox optional, this dive computer allows even those who prefer deeper dives or higher percentages of oxygen to utilize a moderately priced dive computer.
Oceanic OCi Dive Computer Review Summary
The OCi offers all features and functions that you an experienced diver needs. However, it's easy enough to use that a beginner can use the device without a problem.
Oceanic designed the OCi so you can wear it as a wristwatch. If you have a small wrist, then it might end up being a little bulky and large.
You navigate through the screens and settings using the four buttons on the device. The OCi is priced moderately and reflects the capabilities it offers at its price.
What we like
Can be worn as an everyday watch
Hot battery swap retains data
Air integration optional
Dual algorithm
Four air mixes
What we don't like
Battery replacement needs pressure testing by dealer or factory
Small digital display
The small logbook contains only 24 dives
Summary
The Oceanic OCi scuba diving computer is a fantastic midpoint dive watch. It comes with almost everything that you would need, including air integration and battery hot-swap. Though the watch might be a little bit bulky for small framed people, it can be worn every day for those who prefer to wear only one watch for all purposes. This makes it very convenient when tracking altitude and flight times.
If you're looking for a watch with large memory, the OCi is not going to be the watch for you. It only stores 24 dives at a time before you need to upload your dives into your dive log. A long diving trip may require that you download your dives while still on the boat.
Altogether this device is perfect for the average diver. New divers are going to find that this has more features than they will probably use. More experienced divers are going to see that this watch by Oceanic has everything that they need. If you require an LCD screen or larger display, you may want to look at a higher-priced watch.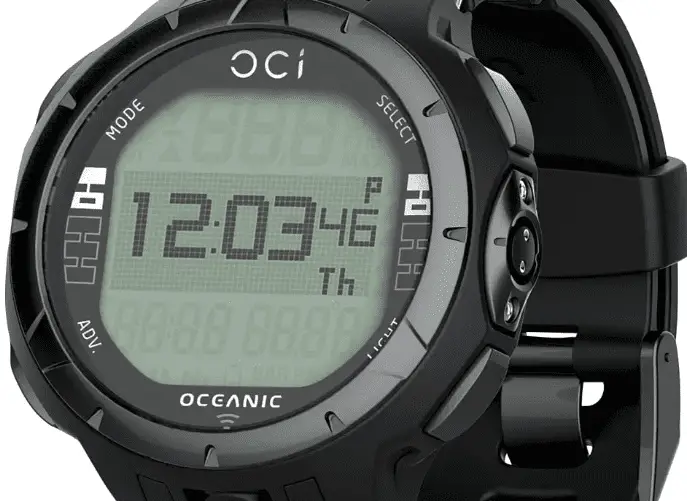 Best Dive Computers for Beginners – Buying Guide and Reviews
Overview and Review of the OCi from Oceanic
While we overall like that a dive computer can be worn as a wristwatch, in this case, we're not sure about it. The device offers so much functionality that it feels like a large screen would be beneficial.
However, the display is easy to read and setup. The navigation is performed through four buttons, and it's easy and intuitive to step through the menu choices to get where you want to be.
The OCi comes in a variety of color choices:
Black
White
Black/Red
Black/Yellow
Black/Titanium
Black/Blue
Capabilities
When looking at the Oceanic OCi, you're going to find it has many features. Oceanic claims that the "I" stands for incredible. That's not far from the truth, considering the price point for the watch and the features that are available.
It offers five different dive modes:
Watch
Norm (Air and Nitrox)
Gauge
Free Diving
Tech-Free Dive
​You can activate the watch with the push of a button or use the water activation system included on the watch.
The maximum depth for the Oceanic OCi dive computer is 180 m or 495 ft when working in the gauge or free dive mode. When working in the normal operating mode, the maximum depth is 330 ft or 100 m. There is a deep stop with countdown timer allowing you to see your multiple safety stop times without difficulty. The optional two countdown timer for deep dives is the half-maximum depth for dives 80 feet or greater.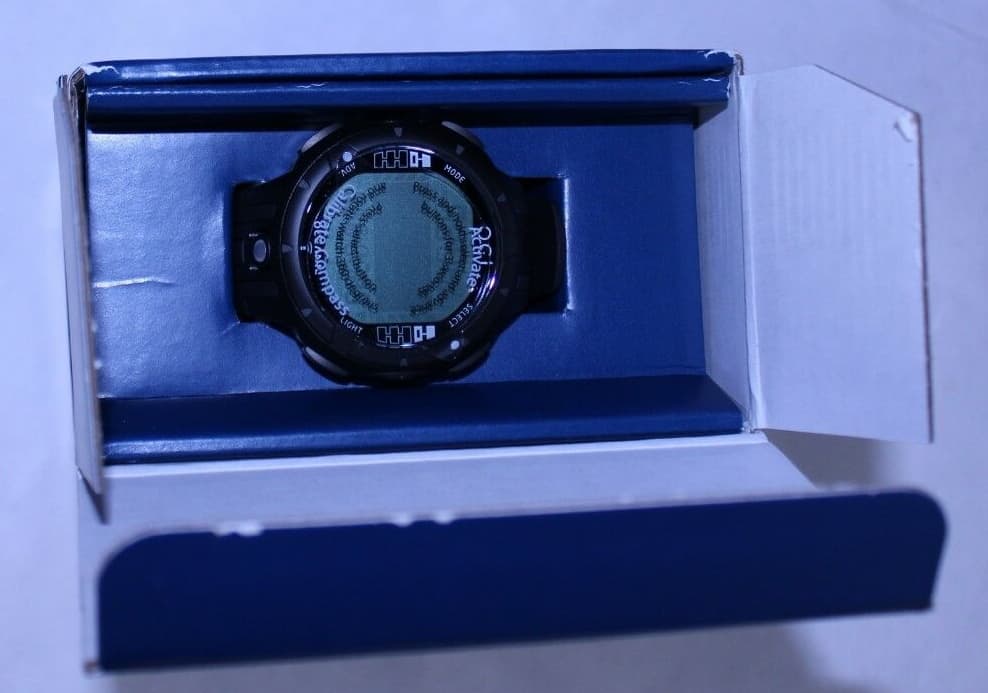 There is both temperature display as well as compass included on the Oceanic OCi dive computer. The other displays include air time remaining, nitrogen tissue loading bar graph, oxygen loading bar graph, no decompression time remaining, air time remaining, and O2 times. This allows you to customize your display to your personal preference.
The backlight on the Oceanic OCi is automatic and uses the OceanicGlo backlight technology. The time that the backlight is on is adjustable by the user. This allows you to maximize the life of the battery by limiting the backlight time.
The OCi dive computer uses the CR2450 battery, and the transmitter uses a 3.6V CR2 battery. The battery life for the dive computer is 300 hours, and the transmitter has a battery life of 1,500 hrs. Hot-swap is available on the Oceanic OCi dive computer, allowing you to retain all dives when changing the battery. There is a low battery indicator, which is a graphic display on the dive watch. The only downside to the battery options on the Oceanic OCi dive computer is that the manufacturer recommends pressure testing by either the dealer or the factory when replacing the battery.
There are several alarms available on the Oceanic OCi dive computer. You can set:
dive time remaining
maximum PO2
free dive elapsed dive time
free dive countdown timer
There are also high O2 and high PO2 alarms, as well as your normal alarm clock and safety stop alarms.
The Oceanic OCi dive computer allows you to display time in either 12 or 24-hour format. There is a calendar available onboard as well as the 24-hour time to fly countdown. This easily allows you to track dates and times, especially when monitoring flight information.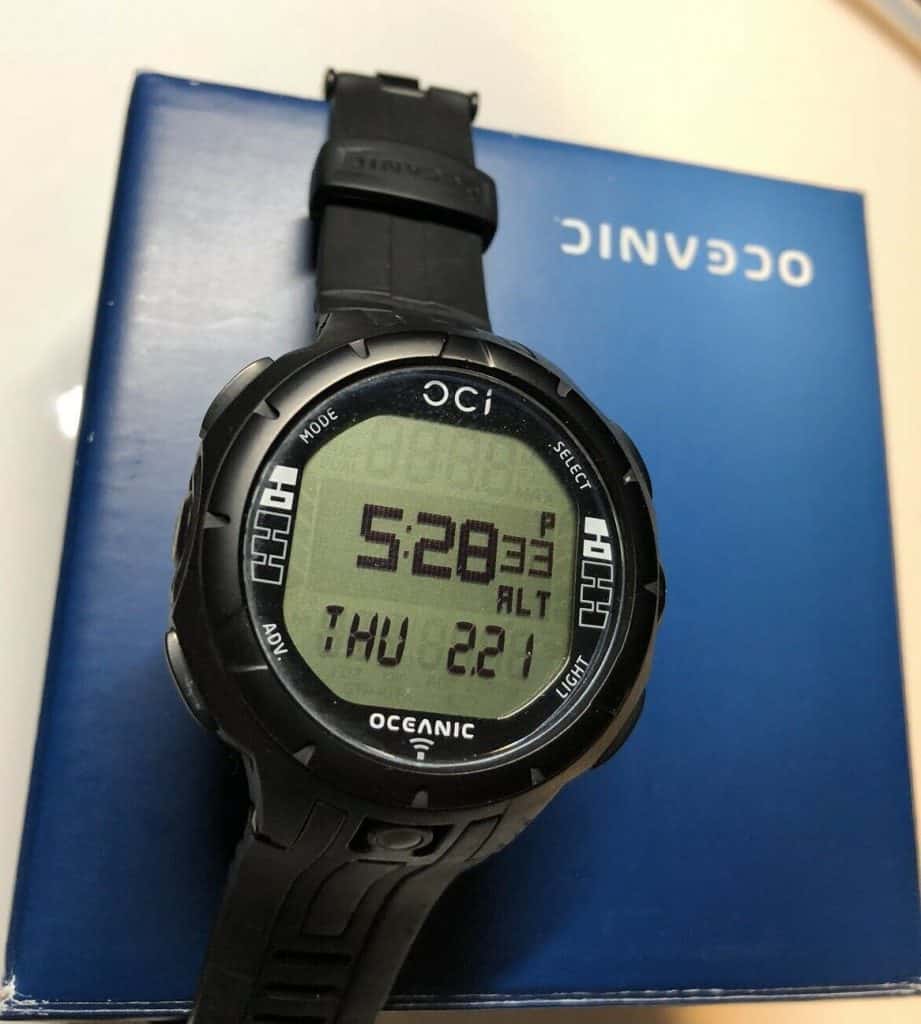 Technical Capabilities
Oceanic uses exclusive dual algorithm technology to power the OCi dive watch. You can choose between the Pelagic DSAT (Spencer/Powell data basis) or Pelagic Z+ (Buhlmann ZHL-16C data basis) algorithms to get the most out of your dive.
The OCi dive computer can switch between four nitrox mixes. The mixes can go from 21 to 100% O2. The wireless transmitter can switch between four independent transmitters for the different O2 combinations allowing you to easily swap tanks and dive without changing the settings on your transmitter or computer.
There are automatic altitude adjustments featured on the Oceanic OCi dive computer. The altitude algorithm basis is NOAA, as well as the O2 limit basis. The automatic altitude adjustment is 610 to 4200 m allowing you to rely on your Oceanic to safely prompt you for flight countdown and altitude adjustments.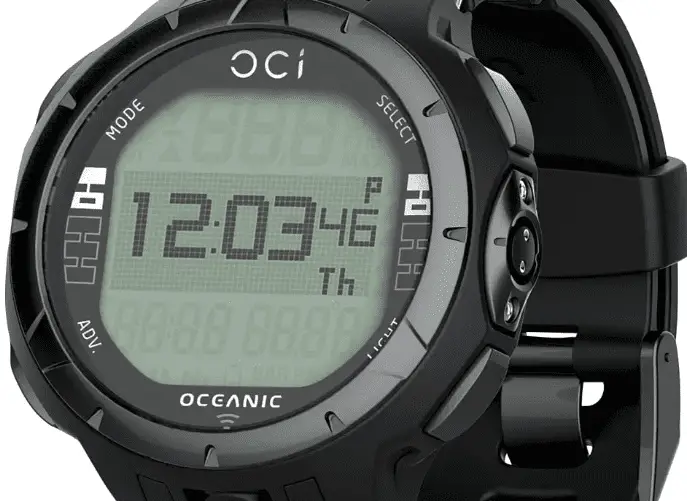 Dive Log and Connectivity
The on-unit dive log of the Oceanic OCi dive computer can hold 24 dives. Included with the dive computer are the Oceanic log computer PC or Mac download and upload settings.
The Oceanic download memory capacity is 1 MB in total. You can connect your Oceanic dive computer to your Mac or PC with a USB cable.
Missing Functionality
The most significant feature that is missing from the Oceanic OCi dive computer is the lack of an ascent rate exceeded alarm. In addition to that, we also wish that the battery was user replaceable on this dive computer. Having to take the computer to a dive shop to be pressure tested to change the battery can be a hassle.
Features/Specifications
Four Operating Modes
Four Pushbuttons for Navigation
Watch sized display showing all data required in one view
Water or Pushbutton Activation
Dual Algorithm
NOAA Altitude and O2 Basis
Automatic Altitude Adjustment
Multiple Deep Stop
Automatic Safety Stop Prompt
Wireless Air Integration
Audible Alarms
Backlight
Temperature Display
Compass
Countdown to Flight Timer
24 Dive Onboard Log
Three Optional Display Settings
Free Dive Options
Limited warranty of 2 years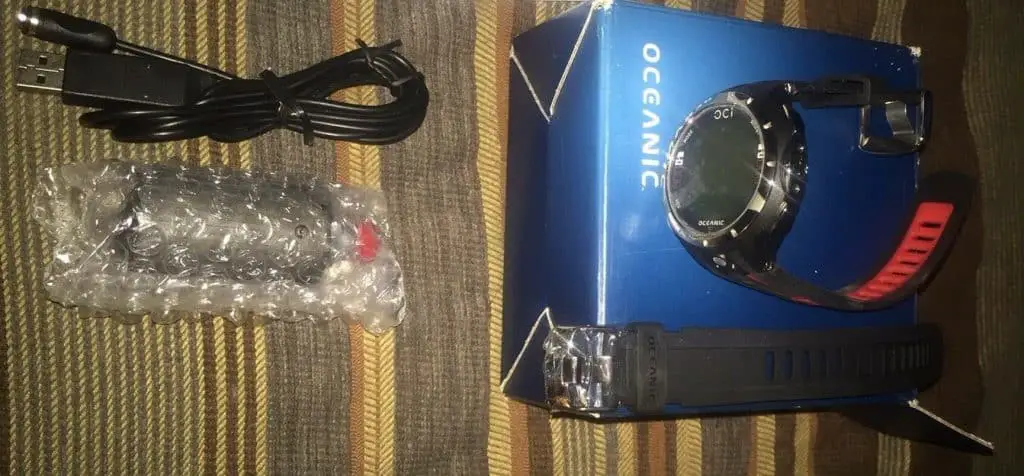 Pros and Cons
There is a lot to like about the Oceanic OCi dive computer because it has a ton of features in a small package. For those who don't like a lot of bulk on their diving gear but want a lot of features in their dive computer, this is going to be the ideal moderately priced dive computer. While it is missing the possibility to have the battery changed by you, you can overlook that downside when you consider all the other features that are included in this dive computer.
Pros
Multiple Display Options
Multiple Alarm Options
Sleek Style
Automatic Activation
Dual Algorithms
Four gas mixes
Altitude Adjustments fully automatic
Cons
Small Display
Battery requires pressure testing when swapped
Small onboard dive log
Bulky when worn as a regular watch
Where to Buy?
You will usually find the best prices online. Oceanic is a well-known brand, so you can also find the OCi in many local dive stores.
Customer Feedback
The reviews for the Oceanic OCi dive computer are positive. If you would like to take a look at all of the things users of this dive computer have to say about the watch, take a look here.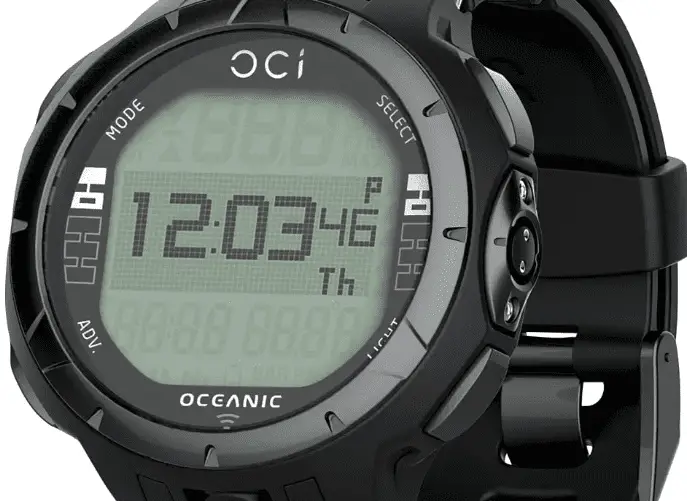 Conclusion
If you're looking for a moderately priced dive computer that has everything you need to plan a dive, then the Oceanic OCi dive computer is going to be what you need. It has all of the features you would expect from a more expensive watch like wireless air integration and battery hot-swap. But it doesn't take up too much room because it still maintains the watch style wrist mount.
For being such a small dive computer, it has plenty of features. New divers are going to have everything they need and more. Experienced divers will probably find that this dive watch has everything they want. The multiple settings and display options allow you to program different dive settings for various dive environments. Oceanic is making it easy for you to dive in numerous locations without reprogramming your watch.
People who do not want to spend a ton of money on wireless air integration are going to enjoy the Oceanic OCi dive computer because you can get a lot of features without spending a lot of money. The unit doesn't take up a ton of space on your wrists, so it minimizes the bulk you carry around with you at depth. For the minimalist diver, this dive computer is going to be perfect.
Who wouldn't like it?
If you like to be able to view bar graphs and displays while underwater, this watch is not for you. People who need larger LCD or OLED displays to see their time at depth will dislike the small display on the screen. The four-button system can be frustrating for those who are used to touchscreen interfaces.
More technical divers may find that this computer lacks the appropriate displays they need or want. Without being able to display everything at the same time, like you would be able to do on a larger dive computer, technical divers may find that they just want a little bit more from the Oceanic OCi scuba computer. But for the price point, it is where it needs to be both in functionality and design.