Oceanic Geo 4 Wrist Dive Computer Review
Oceanic has been manufacturing quality scuba gear since 1972, and the Geo 4.0 is among the company's latest dive computers. The Geo 4.0 connects directly to your phone and other smart devices through Bluetooth, and you can choose your own custom color so that you can dive in style.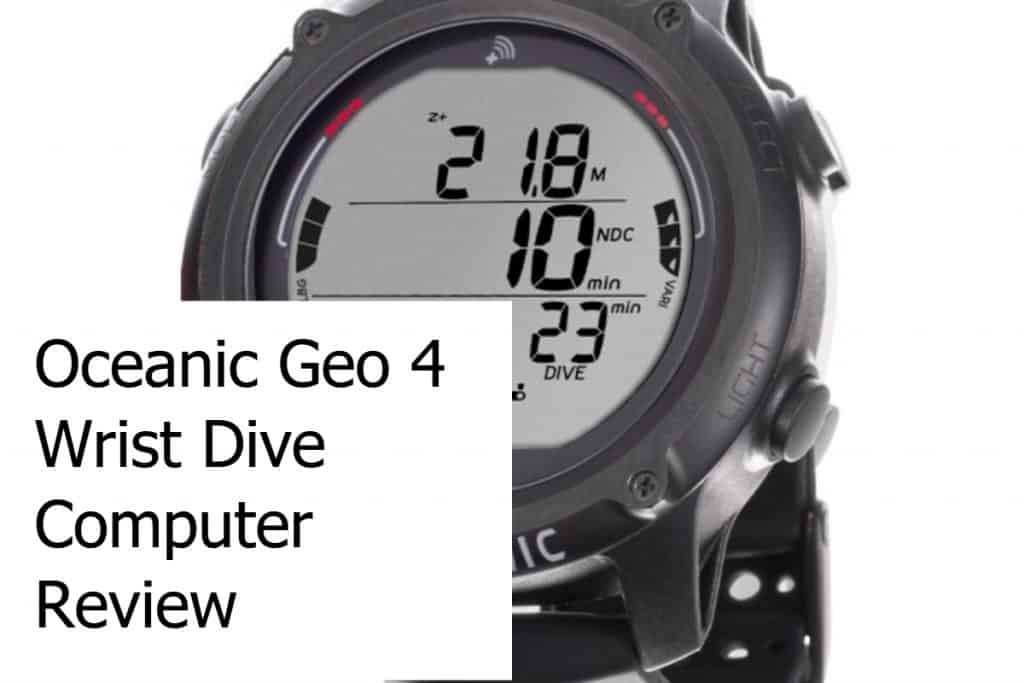 The Geo 4.0 is an upgrade from some of Oceanic's older models and has a larger text display, making it easy for you to check it underwater.
You can easily connect the watch to your smart device through the DiverLog+ App to plan your dive properly for a safe journey that's free from the bends, and to keep track of your dive data after you're done. Bluetooth compatibility saves you the expense and time of getting a transfer cable and manually moving your data from your dive watch to your desktop.
Specifications of the Oceanic Geo 4
24-dive log capacity
50-hour memory
3-volt replaceable battery
Nitrox mix compatible (21-100%)
Dual algorithm function
Multiple modes
Auto altitude adjustment
Ascent rate monitor
Strap color options- comes with an extension wrist band
Auto gas-switching
Bluetooth connectivity
Indefinite data retention of dive calculations
DiverLog+ App connectivity
Backlit display
Comes with a 2-year warranty
Who is the Oceanic Geo 4 Best Suited For?
The Geo 4.0 is designed for recreational divers and has pretty much all the functions and modes used by them. Its compact design makes it comfortable for daily use, making it ideal for frequent and advanced level divers who are out in the ocean practically all the time.
It does lack certain features like air integration and trimix compatibility, which means that it's unsuitable for technical diving.
Features of the Oceanic Geo 4
The Oceanic Geo 4.0 combines the essentials that all divers, even entry-level ones need, as well as some extras to make you feel more comfortable underwater:
Multiple Operation Modes 
The watch has 4 operating modes:
Watch
Norm- this mode is meant for regular scuba activity using the standard air mix or a Nitrox mix of up to 2 gases.
Gauge- this records a diver's depth and time underwater, but divers set their own decompression stops after consulting dive tables.
Freedive- designed for shallow diving where divers don't make use of a tank of compressed air
The watch allows for multi-gas usage of up to 3 gases at a time. Gas switching can take place underwater during the first 10 minutes of the dive.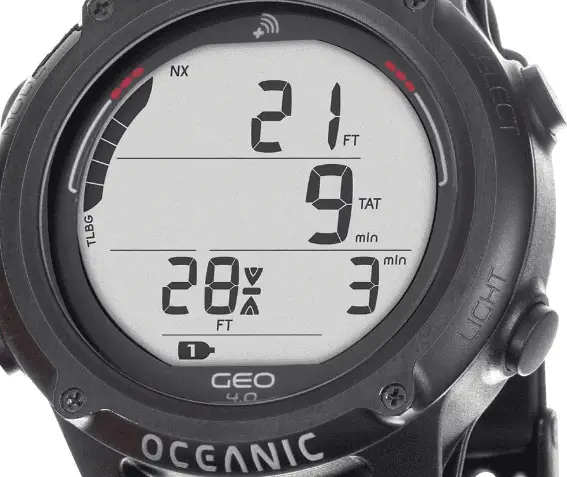 Dual Algorithms
Divers can choose the algorithm they are more comfortable with and still stay safe during their dive by choosing between 2 different algorithms:
DSAT- designed by PADI for use by recreational divers. It determines the non-decompression limit based on diver's history and exposure to the compressed gas.
Pelagic Z+- this algorithm works on the infamous Buhlmann Model and takes into consideration the time divers spend underwater, gas mixes used, water temperature, etc. to help divers maximize their dive time, even if they dive more than once a day. It is considered to be more conservative and less risky than DSAT because the Non-decompression limit (NDL) is stricter, even at shallow depths.
The algorithm being used can be adjusted through the Diverlog+ App (discussed in the next section). Both algorithms are designed to set decompression stops conservatively to ensure maximum underwater safety.
Auto Controls
Different features in the Geo 4 are either automatic or manually controlled:
Gas Switching- Manual
Switch on/off- Automatic once the watch comes into contact with the water. However, you can switch this off by turning off the wet mode
Altitude adjustment- initial altitude is measured before the dive when the watch is activated. Altitude adjustment is automatic up to an altitude of 3,000-14,000 feet. Above this, the watch will no longer function as a dive computer. Adjusting settings, for instance, enabling the Conservative Factor, will reduce the altitude at which you can get automatic altitude adjustment.
Display Features
The Geo 4.0 has a large, backlit display with a 33% larger text size than the Geo 2.0. The interface can be navigated with the help of 4 buttons around the sides of the watch, and you can scroll through the menu to change gases, plan your next dive, and so on.
While different modes display different data on-screen, all modes display depth and time. With a single button, divers can see their Last Dive data, including the maximum depth and time spent at the bottom.
The watch will display a warning when the battery is reduced to 2.75 volts and will sound an alarm at 2.50 volts so that you're not stuck underwater with a watch that dies suddenly. When the low battery alarm sounds, the backlight will also switch off, so make sure you keep an eye on the remaining charge.
Data Storage and Transferability
One of the best features of the Geo 4.0 is that it has Bluetooth connectivity and can be synced to any of your smart devices. You can download the DiverLog+ App, which not only helps you maintain your dive history but also enables you to switch gases, change your algorithm, set display dive alarms, etc. You can even add pictures and videos to your recent dive log.
This is a blessing since the dive computer has limited storage (up to 24 dives), and once it is full, data from past dives will be erased and may only be accessed through the Diverlog+ App. The computer only displays a summary of the dives, so you'll need to open the app for proper insights about your dive time, decompression stops, etc.
Optional Features
Apart from the basic requirements every diver has, the Oceanic Geo 4 has some additional features, such as:
Color Options
You can choose between 5 different color options – black, Sea Blue, blue, yellow, and white. This way, you can customize your look, even when you're underwater.
Data Retention
This feature maintains any calculations, such as decompression stops for different dives. It does this indefinitely, so you can access them whenever needed.
User-Replaceable Battery
The battery life is around 300 dive hours, after which you can replace it yourself with another 3-volt battery.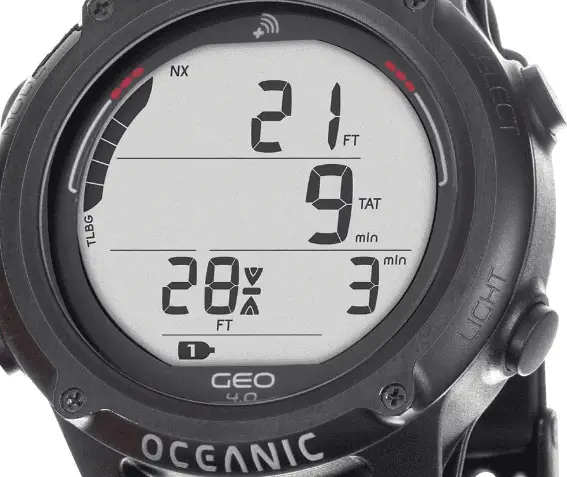 What's Missing in the Oceanic Geo 4?
There are certain features missing in the Oceanic Geo 4.0. While they may not affect most divers, for some, they can be deal-breakers:
Air Integration– air integration helps divers know – just by looking at their watch – how much compressed air they have left. It is particularly important for deep divers who need to keep track of their already limited air supply. The need for air integration may also arise for cave and night divers who need the ease of being able to check the lit screen of the watch for their remaining air level.
Factory Reset Option– the factory reset option is mostly important for dive stores that rent out scuba gear. Although the watch starts from scratch, once its memory is full, it can affect dives for those whose decompression stops, etc. are gauged based on another diver's stats.
Built-in Compass- maybe we've become used to some very high tech dive computers, but a compass within the watch just makes underwater navigation so much easier.
Rebreather Mode– the rebreather mode is simply for divers who re-use air being circulated through their mask.
Trimix Compatibility– useful for technical diving.
Final Thoughts
Despite the lack of some technical features, the Oceanic Geo 4.0 combines smart, sleek design with improved readability due to the larger font size on display.
While it isn't the best choice for professional divers, it caters to recreational divers of all types due to its long battery life, dual algorithm option, and the option to work with up to 3 different gases at a time.
Bluetooth connectivity helps you connect to the DiverLog+ App, which is a major bonus because you can access your dive information no matter where you are in the world, even if you rent a dive watch instead of using your own.
The dive computer combines this host of features in a watch that is comfortable to wear, and you'll feel like you're not wearing anything at all.
Although it is somewhat more expensive than some of Oceanic's older models like Geo 2.0, it's definitely a step-up and worth the extra money.
Just a disclaimer; even with a dive watch that calculates your decompression stops properly, the bends are still a possibility and are not due to incorrect calculations by the computer. 
Please use the image below to pin this post to Pinterest!