Shearwater Teric Dive Computer Review – What you need to know!
Computer technology has brought significant developments in diving safety, performance, and convenience–advancements symbolized by the sleek, Bond-like multi-purpose computer wristwatch.
The future is here, and it comes with a warranty. Do have a closer look at the Shearwater Teric dive computer when you're in the market for finding the best diving computer for your scuba needs! Check out the Shearwater Teric review to see whether this is the right wrist-mounted scuba diving computer for you.
As an experienced diver, you are prepared to invest in your equipment and knowledge to do the research necessary to sort through available options and features. In this article, we'll review Shearwater Research's Teric wrist-mounted scuba computer and see how it compares with the competition.
Purchasing a dive computer for experienced and technical divers
Even experienced divers vary their locations and technical demands—and we all seek flexibility and the convenience of automation. A quality dive computer requires solid performance and monitoring capacity, preferably in a unit that adjusts to the conditions of your dive.
Dive Computer Reliability is a must!
Reliability is non-negotiable for diving equipment. You want a well-designed model with a solid warranty from a reputable manufacturer: preferably one with experience in the advanced diving market. A dive computer should be well-designed and constructed to resist corrosion and degradation from routine wear.

Only you can decide upon the versatility you need, so match those needs against your final selection. You will enjoy the ability to customize features, but without sacrificing technical precision or craftsmanship. Some wrist-mounted dive computers with broad applicability lack the specialization you need, so you'll have to decide what matters most.
A Scuba Computer to use Daily
Don't forget the day-to-day experience either! Consider the intuitiveness and usability of the menu system and display, and the level of automation you desire. Ideally, you'll find the right balance between the precision and control you need, and the automation and convenience you want.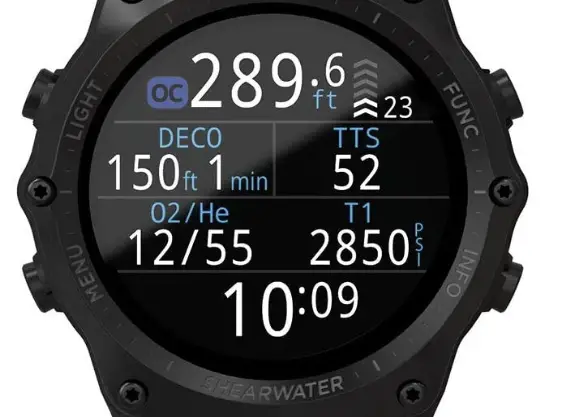 Shearwater Research Teric Wrist-Dive Computer Review
The Teric from Shearwater is a high-performance technical dive computer housed in a distinctive and attractive wristwatch. It is made with recreational divers in mind but includes high-end technical capabilities for versatility and range. 

The Shearwater Teric dive computer is simple to operate, but its complexity is over-the-top for beginners. If you're experienced and know what you need, however, this unit puts style into cutting-edge performance.
The unit's five dive modes cover depth conditions of up to 656 ft (200m) and automate everything from turning itself on to tracking your dive parameters and uploading your log when done.
Shearwater Teric – All the Performance you need?
Since the Shearwater Teric is one of the dive computers that provides performance and versatility in a great-looking wrist computer – along with its loyal customer base and early adopter interest – it is unsurprisingly priced at a premium. There are cheaper scuba dive computers you can find. As a quality instrument, however, it makes sense to consider the Teric more closely.

As an added consideration, the Teric can quickly change its face to double as a land wristwatch – it's a downright bargain when viewed as part of the market for high-end timepieces. Simply use it in watch mode and wear it every day!
Pros
Multiple dive modes
Easy-to-read, customizable AMOLED display
Automatic log tracking and digital integration
Attractive design
2-year warranty
Watch mode
Air integration with up to 2 wireless transmitters
Bluetooth smart technology to conveniently transfer your dive logs
Configurable home screen
Cons
Premium pricing
Recent to market
Some supply issues reported
Features and Benefits
Multiple Dive Modes
The Shearwater Teric comes with five different diving mode settings for versatile performance, so you can quickly change the configuration according to your intended dive.

You can configure specific sampling rates for different kinds of scuba diving, and monitor time-to-surface numbers for pre-planned gas switches.
The Shearwater Teric allows you to program unique mixes for each dive mode, with multiple gas definition presets for any combination of nitrogen and oxygen, and also helium for use in other than the recreational mode.
Recreational Dive Mode
This dive mode is for use during no-decompression scuba diving activities. This mode can monitor three gas mixes and uses nitrogen and oxygen only (no helium).
The setting includes an adaptive safety stop and No Decompression Limit (NDL) Bar Graph so you can see how much time you have before a mandatory decompression stop. Enhanced warnings keep you informed about your limits during a casual dive.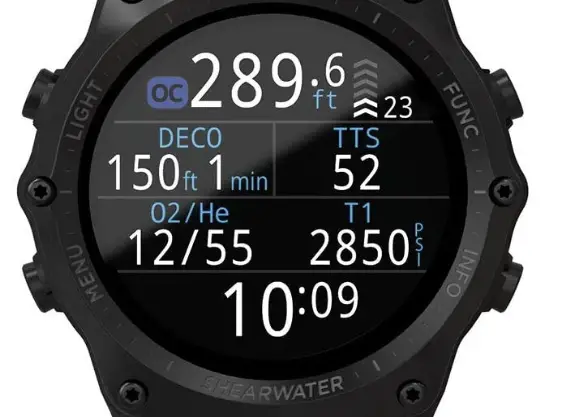 Open-Circuit (OC) Technical
The dive mode to use on technical dives, including planned decompression. 5 OC gases with full Trimix enabled by default. There are no safety stops, and Time-to-Surface (TTS) is prominently displayed throughout the dive when using this mode.
Closed-Circuit/Bail-Out
Designed for monitoring a closed-circuit rebreather, with Bail-out (BO) operation and the quick switchover to Open Circuit use. Constant PO2 is maintained in the closed-circuit/bail-out mode to minimize decompression restrictions, and you can program up to 5 OC/5 CC gases.
Gauge Mode
Simple monitoring of dive time and depth, with resettable stopwatch and timer functions. No tissue tracking or decompression monitoring when in Gauge Mode. 
Freedive
This dive mode shares most features of the other dive modes, with the addition of special monitoring that applies to freediving. The large layout format is enabled by default and displays the Last Dive Time and Max Depth. Ascent and Descent indicators can be set in 1-second intervals. 
Advanced Display Features
The Shearwater Teric inherits and advances the innovative screen functions of its predecessor, the Shearwater Perdix AI. The Perdix AI is one of those dive computers that is well-regarded for its readable and intuitive display.
A Sizeable 1.39 in (35mm) AMOLED screen offers a vivid full color, high-resolution display that is easy to read underwater.
The sapphire crystal face is highly scratch resistant: it rates as a nine on the Mohs hardness scale, just below diamonds. The casing buttons and bezel are made of 316 stainless steel, so you don't have to worry about rust or salt corrosion.
The 4-button Teric interface is even easier to navigate than the 2-button Perdix AI menu system. You can also program one button for single-press access to specific functions for quick access to your most useful tools. You can configure the screen to different layouts and font sizes, and to display the exact information you want to see at a glance.
Alarms can be set for either haptic (vibration) or audible alerts, so you can choose your preferred method and avoid bothering nearby divers too. Besides dive alerts, you can set 2 independent alarms to trigger daily, with options for weekdays/weekends and adjustable snooze time.
The Shearwater Teric provides a three-axis, tilt-compensated digital compass. Its readings show on the outer edge of the display.
You can configure the home screen, so the information you most need is conveniently displayed.
Changeable Watch Face
Another handy feature is the ability to change the watch face for use as a regular wristwatch. There are three faces:
Digital
Analog
Orbits
You can set over 100 possible configurations using the three information levels and different faces and color combinations. Configure the home screen to make it yours!

The Dive Mode automatically switches to Watch Mode after 15 minutes on the surface. It will remain powered, but the dive computer turns off its main functions after 20 minutes if no motion is detected.
Watch Tools of the Teric Scuba Computer
The Stopwatch setting operates across all diving modes and runs up to 24 hours even if turned off. There is a Timer function too, and a Flashlight setting that brightens the display – it won't illuminate the ocean deeps but may be useful at close quarters in low-light conditions.
Rechargeable battery – Shearwater made it Easier for a Diver
The Shearwater Teric is powered by a lithium-ion battery rated for 5+ years of use. It is wirelessly recharged in about 1.5 hours when using the docking station, and can also be charged with most Qi-compliant pads. Depending upon the settings, a single charge lasts from 30 to 60 hours.

One inconvenience is that the battery requires a dealer to change. No swapping out spares, so you need to remain aware of the battery status.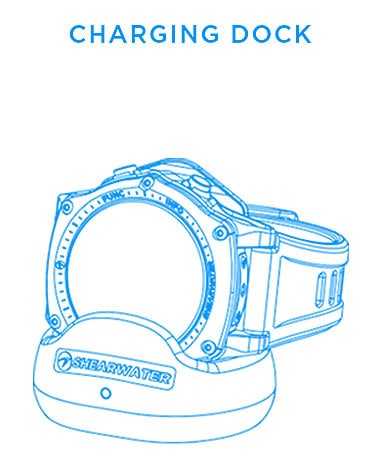 Digital integration
The Shearwater Teric wrist computer is equipped with Bluetooth Smart technology so that you can upload your dive logs automatically to your preferred device. It's compatible with Mac, Windows, iOS, and Android, making it easy to update your system and manage your information.

This connectivity through the Bluetooth Smart Technology not only allows you to transfer your dive log to your PC but also makes firmware updates a breeze. You can do these firmware updates conveniently from home and be certain that the Teric stays up-to-date.
Warranty and Service
The Shearwater Teric comes with a 2-year warranty, and Shearwater Research has a positive customer service record. Each Teric has a unique serial number that doesn't require registration and can be transferred if sold.
Options and Accessories
The Teric can connect wirelessly with up to 2 transmitters for air integration, but you must purchase this equipment separately. The feature can be added at any time, however, if you aren't sure about making the outlay quite yet.

The wristband comes in several optional dual-color schemes you can purchase additionally:
Pink
Blue
Green
White
Yellow
The straps are interchangeable with any 22 mm watch band type.
Social Proof
Hearing directly from users about their experience with the Shearwater Teric wrist dive computer is essential to any objective evaluation, and the Teric is attracting favorable attention. Here are a few samples of user feedback found online on this dive computer: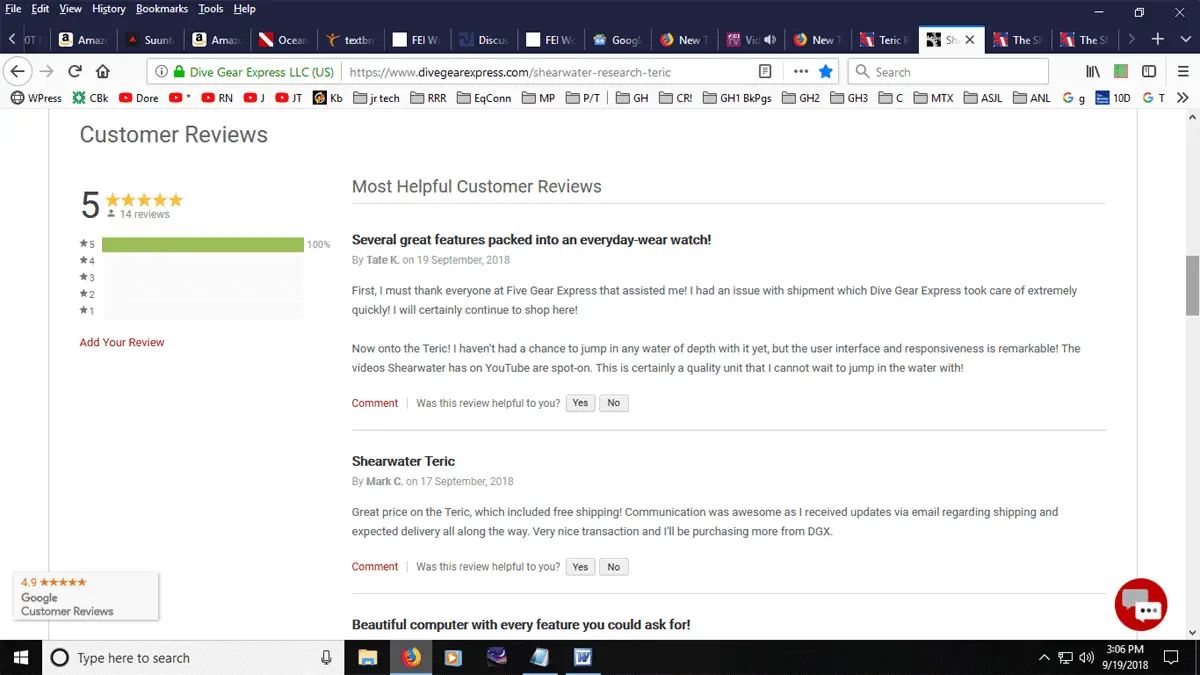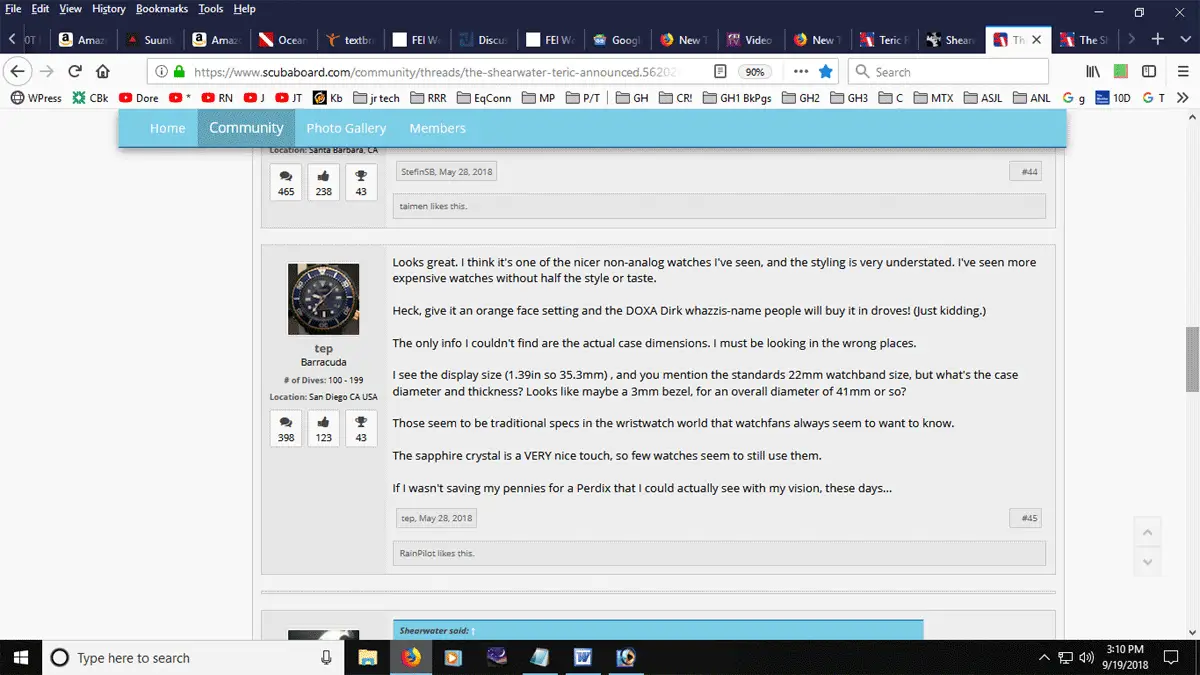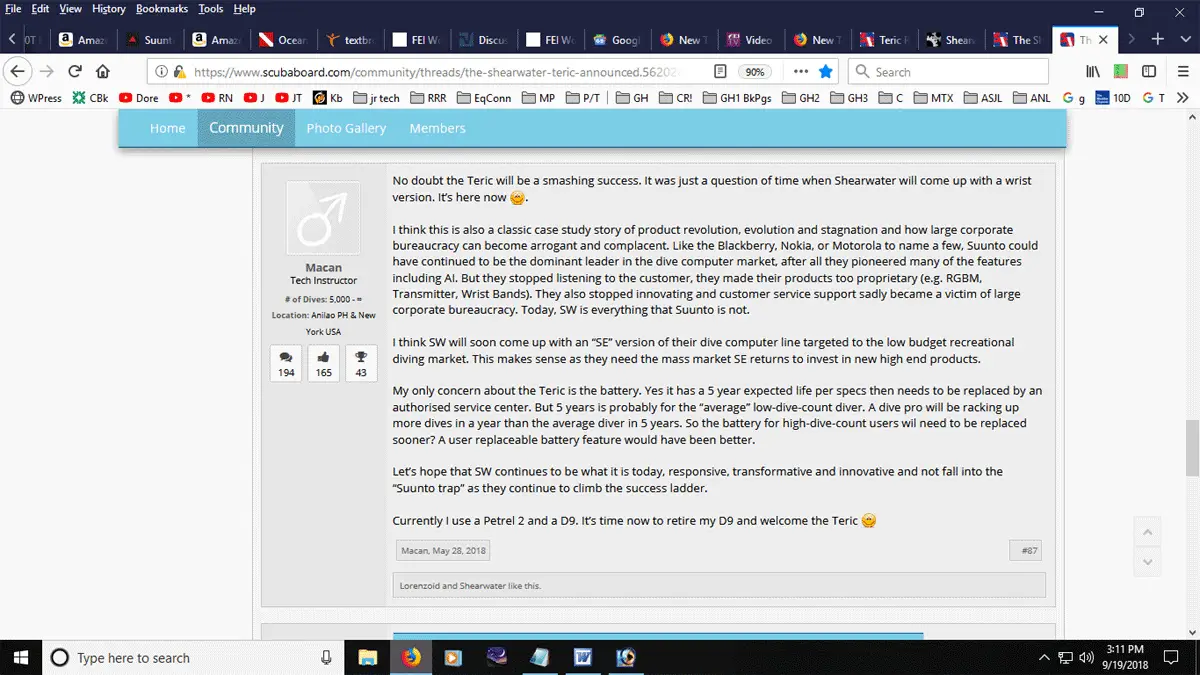 Alternatives to consider – Comparison with other Dive Computers
While we think that the Teric is one of the best dive computers you can get, let's have a look at other offerings in the same price range and category. Below we'll have a short look at three other dive computers, the Aqua Lung i450T, the Suunto D6i Novo, and the Oceanic OCi.
Each dive computer is an excellent device that costs around the same as the Teric diving computer!
Aqua Lung i470TC
The Aqua Lung i470TC is a wrist-mounted dive computer was introduced a few years ago and remains one of the excellent competitors to Shearwater's Teric. The i470TC is stylish and shares the theme of flexibility and convenience which the Teric has developed further.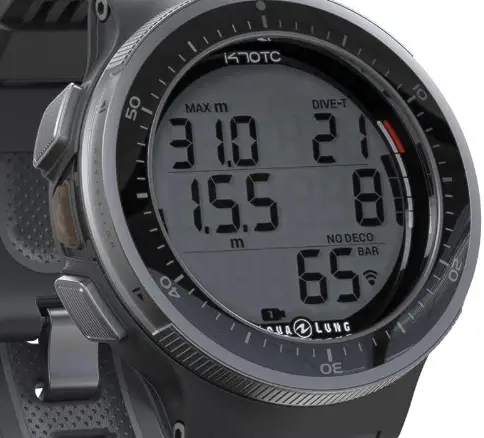 The Aqua Lung i470TC features four diving modes, lacking the CC/BO rebreather mode and higher automation of the Teric's recreational settings. The display is intuitive and easy to read, though it lacks the color and highly customizable interface that makes the Teric stand out visually.

The i470TC excels at air integration, offering control of up to 3 transmitters instead of Teric's dual capacity. Its battery is replaceable by users too, so you'll be saved a trip to the dealer when it's time to change.

Overall, Aqua Lung's unit today represents a pared-down feature set when compared to the Shearwater Teric, but it's a reliable tool at a slightly lower cost.
Stylish but single-color face
Lacks rebreather monitoring
User-replaceable battery
Suunto D6i Novo
The Suunto D6i Novo is an established wrist-mounted dive computer that is a close competitor to the Teric and comes with a similar price tag too. As an older model, it has a bit less under the hood than Shearwater's latest effort, but it is well-tested and reliable.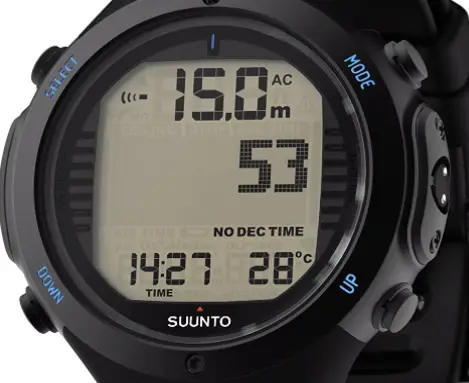 The D6i Novo dive computer is excellent for free diving, and the longtime market presence of Suunto makes it easy to find assistance across the world.
No Rebreather Support
It doesn't have a dive mode for CC/BO rebreather tech, but it has similar automation to the Teric—including an optional transmitter and the need to have its battery replaced by a dealer. The D6i has a duller, black LED face, and small buttons that have been known to stick without extra care.

It's also less connected. You won't get features like Bluetooth connectivity to offload your dive logs to your PC or smart device.

The D6i is well-regarded by professionals, and it's in the same price range as the newer Teric. It doesn't have quite the same level of digital integration or automation, but it's still a solid choice if you have the budget.
Small buttons
Lacks rebreather monitoring
Oceanic Oci
The Oceanic Oci is an older model that combined the technical advancement of the OC1 with the stylish and popular OCS model. It is in the same price range as the Shearwater model, and looks great and performs well.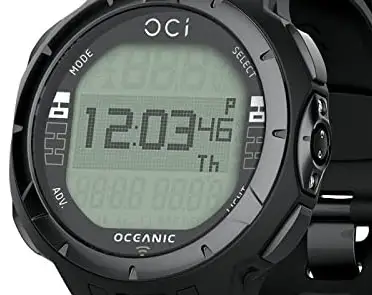 Best Wrist Dive Computers with Air Integration – Reviews and Buying Guide
Though it lacks full-color high-resolution AMOLED display or the Shearwater Teric's versatility and range, the Oci dive computer is established and offers all most recreational diver's need.
You get four wireless transmitter capacity, and user-replaceable battery power, and an established customer base. The Oceanic Oci package includes the transmitter, which makes it more affordable than the Teric if you need air integration.
It's an older model that compares favorably concerning reliability, and its slightly smaller feature set present a less complicated tool for less experienced divers. Transferring your dive logs to your PC is more of a hassle as there's no Bluetooth capability found in the OCi.
Includes wireless transmitter
Lacks full-color display
Conclusion
It's hard to keep up with the latest innovations: you want the best of essential advances while avoiding the gimmicks. An advanced diver can't sacrifice precision and reliability, but versatility and ease of use are critical for day-to-day convenience.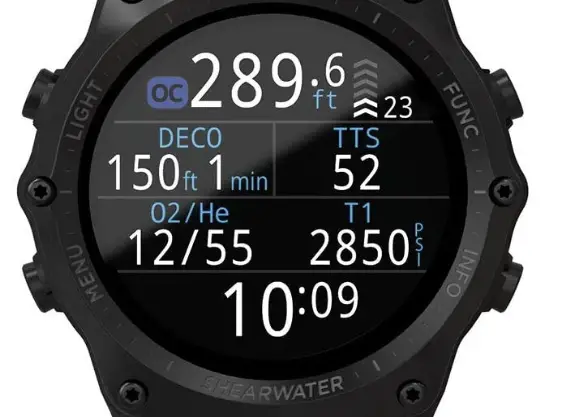 Good looking smart dive watch
Good looks don't hurt, and the Teric offers it – along with the solid performance demanded by experienced divers. The Teric represents the next generation of dive computers and gives the flexibility to meet most diving techniques and occasions.
A worthy Shearwater Research Perdix AI alternative and successor
The successor of the Shearwater Perdix AI takes the best features of that diving computer and packs it into a small device that is useful every day. It's a diving computer with a style that you can configure to match your needs. It's a great looking watch even if you're just at the beach and not underwater!

Check the Shearwater Teric wrist diving computer out for yourself!