Suunto Vyper Air Dive Computer Review
The Suunto Vyper Air is the third member of the Vyper Dive Computer Family. It's not as capable as the Vyper Novo yet has air integration and a compass built-in which separates it from the Suunto Vyper.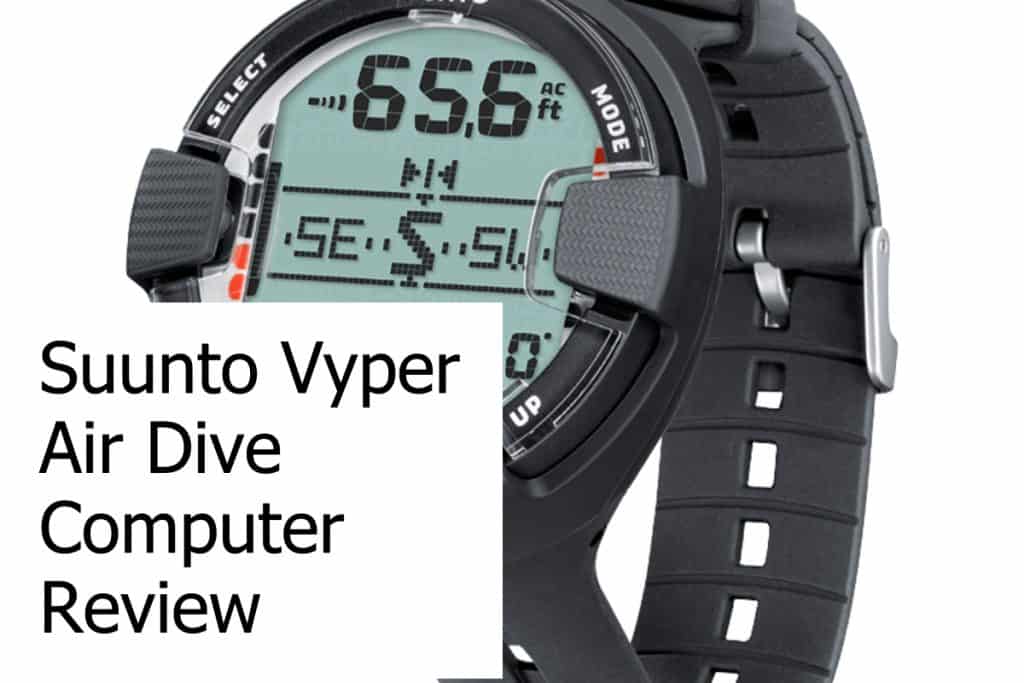 While it is an oversized dive watch, it does have a lot more resemblance to a watch than the other two models in the Vyper family. Yet, it is pretty large and roughly the same size as the Vyper model is.
The Suunto Vyper Air is designed for recreational divers with a few years of dive experience. It's worn on the wrist and is basically an oversized dive watch.
Navigation is managed through 4 buttons which makes it easy to scroll through the different menu options. The Vyper Air is no longer produced or sold. You can at times find some last units online or at your local dive shop. If you do, then you should get such a device at a great price for the functionality that is offered.
What we liked
The display shows all important data simultaneously
Simplified four-button navigation
Sufficient features for beginner and experienced divers
Optional Air Integration
Integrated compass
Handles two gas mixes
What we don't like
Too large to wear as a watch
Summary
The Suunto Vyper Air is squarely placed between the Vyper and the Vyper Novo with regards to capabilities. However, looking at the price, this dive computer is much closer to the Vyper. If you skip the air transmitter (which you can buy later) then you get a very capable device for a very good price!
Overview and Review of the Vyper Air by Suunto
The Vyper Air is only available as a wrist diving computer. It does not come mounted in a console.
Capabilities
The Suunto Vyper Air offers all important data on a large dot-matrix screen.
This dive computer offers three different dive modes:
Air
Nitrox
Gauge
The Suunto Vyper Air offers all features you would need as a recreational diver. Even if you start diving with different gas mixes, this is a dive computer that will work for you.
All visual alarms including a low battery indicator display on the main screen. There's no need to navigate to other menus to get alarm information. The battery can be changed by yourself which avoids having to take the scuba computer to a service center or dive shop.
Navigation on the Vyper Air is simple and streamlined. You have four buttons available to go to different menus or to switch on the backlight. Even with thick dive gloves, you will not have a problem to make sure that you hit the right button.
The Vyper Air has a full list of important alarms available. They are both visual and audible alarms. Here's the list of alerts that will warn you when limits are exceeded:
Maximum Depth
High pO2
Decompression ceiling violation
Too fast ascent
CNS/OTU (OLF) 80% / 100%
Switch gas (better gas is available)
Technical Capabilities
​The Suunto Vyper Air is capable of handling two gas mixes between 21% and 99% oxygen. The pO2 limits can be set in the range from 1.2 to 1.6 bar.
The max. operational depth is 100 m (328 ft). The Vyper Air has adjustments for diving at high altitudes up to 3,000 meters (9,843 feet). The altitude can be set in four different steps. Setting the altitude correctly allows the algorithm to perform its calculations correctly.
The algorithm is Suunto's own RGBM. All Suunto dive computers use a variant of this algorithm. You can adjust the conservatism of the algorithm with two different settings. This provides higher safety margins during your dives if you prefer them.
Dive Log and Connectivity
​The dive log could be a little bigger. You can hold dive data for up to 42 hours. That's if you use the standard sampling rate of 20 seconds. You can also adjust the rate to 1, 10, 20, 30 or 60 seconds.
You can link the Suunto Vyper Air to your computer by using a USB connection. The Suunto DM5 software which has to be installed on the computer can download the dive data. You can then analyze the data from past drives as well as plan out future dives.
Through the DM5 software, you also have the ability to upload the data to the Movescount portal from Suunto. The data can be enriched with information like photos and videos and you can share it with others on the portal.
Missing Functionality
The SUUNTO Vyper Air has all features that you would need as a recreational diver. It can handle up to two gas mixes with for most dive situations is enough. In addition, you do get air integration and a compass.
Features/Specifications
Streamlined navigation with four buttons
Visible and audible alarms when limits get exceeded
All important data displayed at a glance
Air, Nitrox and Gauge modes supported
Two gas mixes from 21% to 99%
pPO2 limits adjustable between 1.2 and 1.6 bars
Suunto RGBM algorithm
2 settings to adjust conservatism of algorithm
100 meters/328 feet operational depth
Set Altitude up to 3,000 m (9,843 ft) in four different steps
Data in either imperial or metric units
Up to 42 hours of dive log data at a sampling rate of 20 seconds
Sampling rate configurable to be 10, 20, 30, or 60 seconds
The battery can be replaced by yourself
Pros and Cons
The Vyper Air is a pretty complete dive computer. You get every functionality you need as a recreational diver.
You can save money now by getting the dive computer without the wireless transmitters. You can buy them at a later point in time (if at all) when you're ready to use air integration.
Pros
Easy navigation with a four-button setups
Adjustable Suunto RGBM algorithm with two steps
Three dive modes (Air, Nitrox, and Gauge)
Complete features set for the recreational diver
Optional air integration
Integrated compass
Two gas mixes
Cons
Recreational divers should not require more features than what the Vyper Air has to offer. The functionalities provided cover everything you could ask for.
Where to Buy?
Suunto no longer produces or sells the Vyper Air. You might be able to find a few ones left online at some larger retailers or at a local dive shop.
Overall, you'll probably be better off buying a current dive computer like the Vyper Novo from Suunto.
Customer Feedback
Looking at the customer reviews of people that bought this scuba computer shows that this is a great device. The feedback is very positive. Most complaints are about the device not working when they unpack it.
Conclusion
​The Suunto Vyper Air provides all the features a recreational diver would need. And it all comes at a very reasonable price.
You get a full-featured dive computer that works reliably. The optional air integration allows expanding the capabilities at a later time when you require them.​
If you want most of the features offered by the Vyper Air but don't need a compass, air integration and to use two gas mixes then have a look at the review of the Suunto Vyper or even of the Suunto Zoop Novo. The Vyper is around the same price as the Vyper Air while the Zoop Novo is quite a bit cheaper.
Who is the SUUNTO Vyper Air not for?
The Vyper Air satisfies the requirements that any recreational diver has. Technical divers might require more than two gas mixes but otherwise, you get all functions you can think of.
It's a dive computer that has enough features for any experience level. Even a beginner could invest in it and then add air integration at a later time.
Having all functions that are required results in a dive computer that will support you during your dives for years to come. The Suunto Vyper Air offers what you need and all that at a really great price!