Aqualung Axiom BCD Review – Jacket Style BC for Scuba
The Aqua Lung Axiom is a jacket style BCD that has been introduced to the market years ago. It has since then been has been available now for a few years. It is available with two different inflation systems. You can either use the Aqualung i3 or the Powerline system.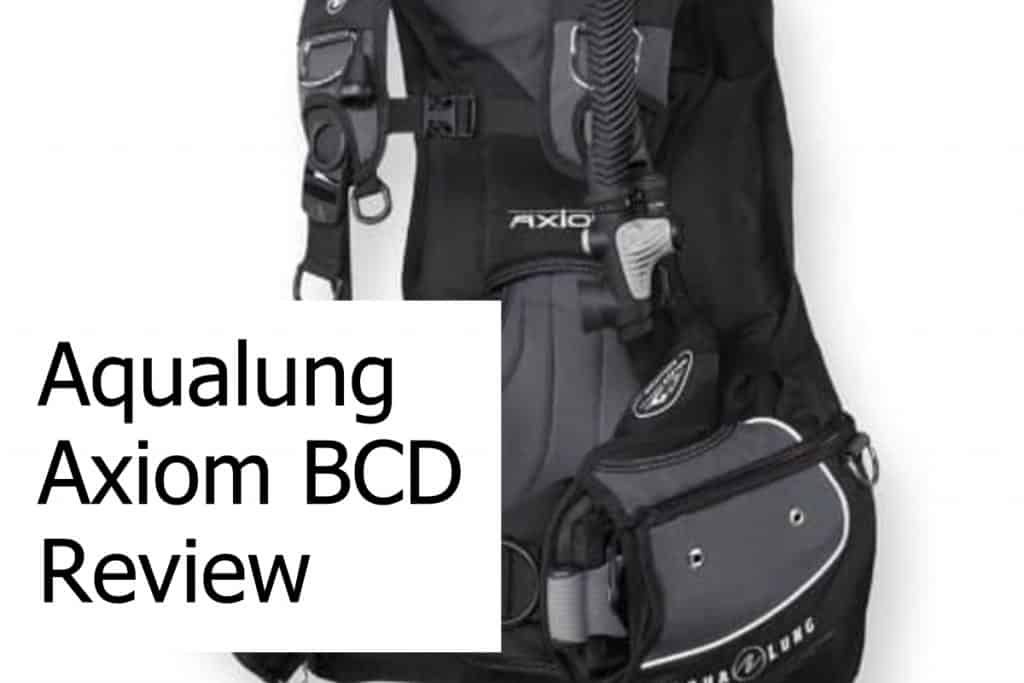 The BCD has an easy-to-adjust harness and is built solid with high-quality materials. The tank attachment is easy and works well. Additionally, you get reasonably large pockets and a large number of D-rings to attach additional accessories.
Aqua Lung Axiom BCD Review Summary
The Aqua Lung Axiom BCD is a jacket style buoyancy compensator. It's easy to use and to adjust. It offers a wide range of adjustments.
The price of the Axiom is what you have to expect for a high-quality BCD. The version with the i3 inflation system does cost more.
What we like
Very comfortable to wear
Two different inflation systems available
A large number of sizes
Easy to use integrated weight system and weight release system
What we don't like
Being a jacket system makes it overall bulky
Summary
The Aqua Lung Axiom is one of the best jacket style BCD's around. It is a full-featured buoyancy compensator that comes with an excellent harness that provides a lot of options to adjust and find the perfect fit.
You can get it with two different inflation systems and in seven different sizes. Overall you can't go wrong with this BCD as a recreational diver!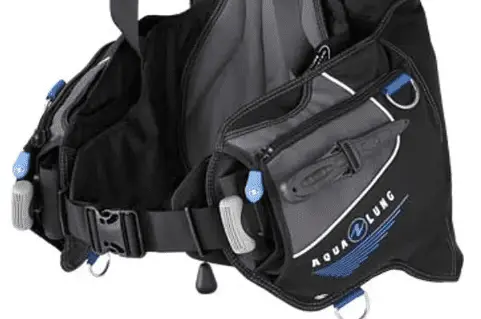 Review of the Aqua Lung Axiom Buoyancy Compensator
The Aqua Lung Axiom has been available now for a few years. It is available with an i3 inflation system as well as the Powerline system that is used by Aqua Lung.
I3 Inflation System
The i3 system uses a convenient lever mounted on the side to inflate or deflate the air cell. The Powerline setup is designed like a classic inflation system coming over the shoulder and connecting to your tank. The mouthpiece on the i3 system is something to get used to but otherwise, it's a great and efficient system to have!
The Axiom has been constantly improved over the years and is still one of the best and most comfortable BC's around. It is a weight integrated jacket BCD.
It is a very comfortable jacket BCD that provides great comfort and fit. It comes with Aqualungs proprietary Wrapture Harness System. It offers a swivel buckle harness. It also has an adjustable sternum strap so you can find the optimal fit.
Integrated Weight System
The integrated SureLock II weight system can handle weights up to 30 pounds in the weight pockets. In addition, you have 10 pounds of non-ditchable weight for trim in the back.
The SureLock II integrated weight system had been recalled years ago but it is safe in today's version! The weight pockets can be easily filled before you dive to set the correct weight.
Streamlined through the optimized air cell
The BC has a specific air cell design. The result is one of the most streamlined jacket BCD's you can get. The valves are flat and have a low profile to reduce drag in the water. During deflation, the sides of the bladder are pulled in to optimize drag and keep the BC super streamlined.
Storage
The BC offers three pockets for storage. Two close with a zipper. In addition, there are numerous D-rings available to attach additional dive accessories.
A great feature of this BCD is that it is offered in a whopping 7 (!) different sizes. There's practically no chance that there's not a size that fits you!
Technical Specifications
Wrap-around jacket style BCD
Ultra-thin back plate
Three pockets with zippers
Five stainless steel D-rings
Lift is between 27 to 48 pounds (depending on size)
SureLock II integrated weight system
Up to 30 pounds of integrated weights that can be released
Up to 10 pounds of non-ditchable trim weight
Weight of around 10 pounds
Besides all the features already mentioned you also get an octo holder and Aqua Lungs GripLock tank band. The harness can be adjusted to provide the perfect fit and the Wrapture Harness system makes it easy to prevent the tank from riding up to the surface while also keeping it close to your center of gravity. The weight is transferred to your hips so you can stand up straight in comfort.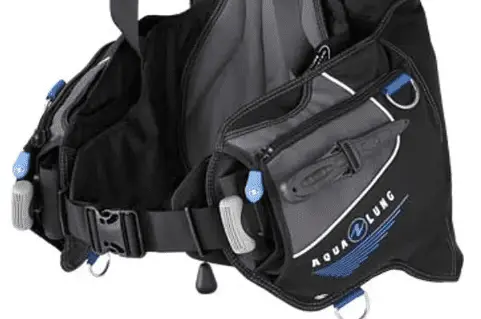 Inflation System
i3 Inflation
The i3 system to inflate or deflate the Axiom is a unique system. It combines the usage of inflation and deflation into a single lever. It is positioned on the side where you can easily reach it.
The deflate position on the lever opens up the exhaust valves to deflate the air bladder. These valves are designed flat to have a low profile and reduce drag underwater. The lever is sensitive to allow you to make very fine adjustments if needed.
The position of the lever needs some getting used to but you'll soon find out that it's very conveniently located on the side. The i3 system comes with an oral inflator that is positioned over the shoulder. You want to familiarize yourself with it. While you usually won't use it, it is essential that you know your gear and as such know how to use it!
Powerline Inflation
The Powerline inflation system is definitely more what you know from other BC's. It sits on your left shoulder and connects to your tank with a standard low-pressure hose.
The system is very reliable and easy to use. Beginners will prefer it as it is similar to inflation/deflation systems you will find on BC's from other brands. It also is around $100 cheaper than the i3 system.
Storage
The Axiom has three pockets. Two of them close with a zipper. One is a small pocket inside a pocket to allow to store personal belongings.
The two pockets are large enough to allow you to store some small dive accessories like a dive light, etc. You can probably fit dive gloves in there also if needed.
The BC provides quite a few D-Rings to use to attach dive accessories to it. It has 5 stainless steel D-rings as attachment points. In addition, you get one (Powerline system) or 2 (i3 system) plastic D-rings to use for additional attachments.
Lastly, the BCD has a convenient knife attachment point on the left lobe. It's designed to accommodate a variety of Aqualung knives.
Adjustments and Comfort
The harness system of the Axiom allows for easy adjustments. You'll be able to find the perfect fit by adjusting the various straps.
The Wrapture harness system allows a comfortable fit and weight distribution above and underwater. You can stand straight above water while the tank is kept tight to your center of gravity. Underwater the GripLock tank band makes sure that the tank stays in its optimal position.
The jacket is comfortable and sturdy. Being a jacket style BCD makes it somewhat bulky and not the best choice if you want to travel with it.
The swiveling connectors of the shoulder straps make it easy to rotate the straps into the right position. This helps to find the perfect position of the harness and the jacket. The Axiom BCD scores high marks on comfort and stability.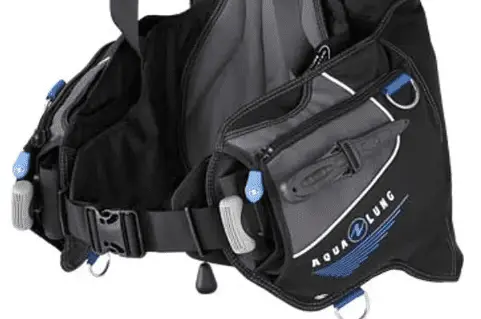 Where to Buy?
You'll usually find the most selection for the Aqua Lung Axiom BCD online and most likely on Amazon. You can find all seven sizes there to get the perfect one for you.
There are also a number of combination packages with dive computers, etc. available on Amazon. Have a look to save yourself a bunch of money.
Customer Feedback
There are overall only positive ratings of people having bought this BCD. As a recreational diver, this is one of the best pieces of dive gear you can get that will last you for years to come!
Conclusion
There are not many other BCD's for recreational divers that are as comfortable and easy to use as the Aqualung Axiom. The streamlined design helps when you're underwater.
There's not much bad to say about this BC. It's built sturdy and it has been on the market (with improvements) for a few years now. It's simply one of the best jacket style BCD's you can get and is a great choice for a recreational diver!