Scuba BCD Buying Guide
A BCD (Buoyancy Control Device or short BC) is one of the essential pieces of dive equipment there is. You can rent it in dive stores or simply get your own. As it is one of those parts of equipment that could end up a bit of adjustments to fit perfectly right, it does make sense to get your own so you won't have to fiddle with all the straps to get it to sit comfortably.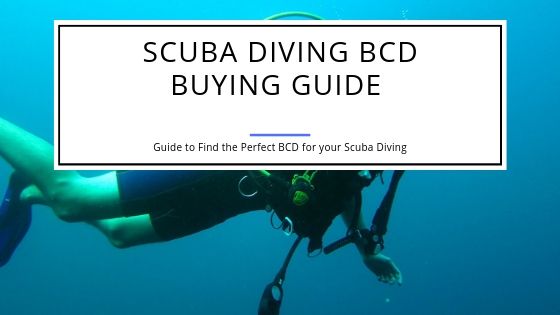 There's also a safety concern when you rent these types of equipment. If you're not used to a specific BCD and you are not 100% sure where which other parts of equipment are then you might have a hard time finding for example your dive console or dive knife that are attached to the BCD.
While that's not a problem when everything is calm, it can be a safety hazard when there's an issue and you and your surroundings are in a sort of panic mode. It makes sense to own your essential pieces of equipment so you are used to them and know how to handle them in case of an emergency!
BCD's come in different styles and flavors. These are:
Jacket/Vest
Back Inflated
Back Plate and Wing
Sidemount
Additionally, you can find BCD's that are specifically designed for
In any case, let's have a look at the different types and styles of BCD's. We also added our top pick of BCD for each category to make it easier for you to choose the best BCD for your needs.
Jacket/Vest BCD
This style is the most common and most used Scuba BCD type. If you're going to any dive shop or rental place you'll find tons of those around for rent.
Why, you ask?
They are the simplest BCD's to use. Not that they are not good. You strap a single tank on, hook up the inflator and then adjust a few straps and it should sit safe and reasonably comfortable. The next thing is to get right in the water. Simple.
A great example of such a jacket BCD is the Cressi Start Pro. Click below to find out more about it at Amazon.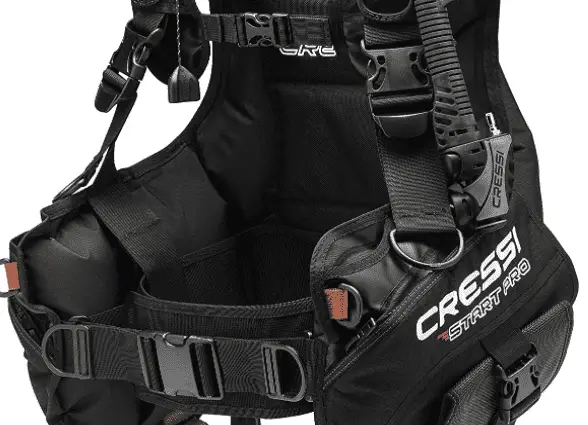 If it's your own you might fiddle more with the adjustments and hooks to put everything where you want it to be and to make sure you find all items when you need them. Most jacket/vest BCD's are very affordable. Other options you can find are whether you want them to have integrated pouches for weights or not. If you don't like a weight belt then definitely go for a BCD that has the weight integrated!
The jacket-style BCD's also provide numerous pockets for storage. One thing that all jacket BCD's have in common is that the bladder wraps around the diver. It inflates in the front, the sides and the back of the diver. This overall makes them easy to handle and to adjust underwater. They are very stable in any position in the water.
Yet, the simplicity does have some drawbacks. The simplicity makes them perfect for new divers or recreational divers that only occasionally dive. The downside of this style is though that there's no chance of it growing with your needs and experience. They are designed to handle a single tank and that's it. If you ever get to the point that you want to dive with multiple tanks with different gas mixes then you're out of luck with this type of BDC.
Having said that, you can get them at a price point that completely justifies to get one to start. You'll realistically need a while before you reach the point that you want or need more than one tank and by then the BCD might have served its purpose!
Back Inflated BCD
The Back Inflated BCD is a variant of the Jacket type. The main difference is that the bladder that inflates is on the back instead of all around the diver. This frees up the front and allows for better movement and ends up being more comfortable.
The stability of the harness comes from a strap or cummerbund around the waist line. There are usually multiple attachment point on the harness to link devices or storage to.
The ScubaPro Lighthawk is a back inflate BCD that serves as a good example of this type of BCD. Click below if you want to get more information and customer reviews about it at Amazon.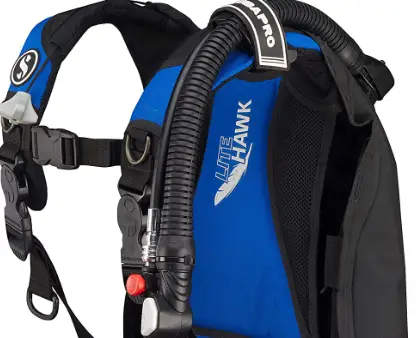 The positioning of the bladder on the back also allows many of these BCD's to be modular which means they can grow with the increased needs when gaining experience as a diver. Some have pockets for storage in the front of the BCD without adding any bulkiness.
Many of these types of BCD's are also designed to be lightweight for travel. That is due to these designs being usually a soft backpack. The stability is created through the bladder cradling the tank. Usually, these designs also have two straps to hold the tank. The soft backpack design makes it so that many can be easily folded up to be fit for travel. Most of the available back inflated BCD's are also usable in both cold and warm water.
The back inflation BCD needs a little getting used to when diving with it. The buoyancy is different than with a jacket BCD. Once you've gotten used to the different buoyancy you will feel more natural being suspended from the air in your back compared to having it wrapped around you in a jacket BCD.
Backplate and Wing BCD
For a beginner diver the Back Plate and Wing BCD, also called BP/W BCD, might be somewhat overwhelming when trying to figure out what is needed. A jacket or back inflated BCD comes as a complete package. There might be some additional storage parts that you can buy but you pretty much get what you see.
The BP/W system is a little more complex. You basically build your own BCD starting with a backplate. Most back plates come with the straps as part of them so at least you won't have to worry about them. Next you add the wing (air bladder) where you have the choice between different sizes and shapes. Finally, you add the harness where you can pick different designs and colors and then certainly different hardware choices. You assemble all these into your personal BCD.
This type of BDC is a great choice for more technical divers or if you want to start cave or wreck diving. A beginner should stick with simpler designs until he or she gets to the point that more technical dives with different gas mixes, etc. are required. The choices can be overwhelming and confusing. Let's have a look at the different components.
Backplate
The first component is the back plate. It's the foundation of the system. You can usually pick from three different materials which are stainless steel, aluminum and composite (plastic). You want to consider where and how often you dive before picking the material for your backplate.
Hollis provides a number of such backplates as do other manufacturers. Click below to get customer reviews and information about the Hollis Elite II at Amazon.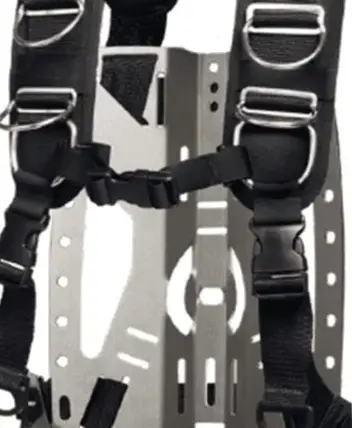 Stainless steel is the best choice if you dive in cold water. It also allows you add additional ballast to reduce the weight on the belt.
Aluminum is a great choice if you travel often and dive in temperate environments. It is light and can easily be packed in a suitcase for travel. Due to the light construction there's no possibility for adding additional ballast.
Composites are usually the least expensive option. Similar to aluminum they are lightweight and good for travel and temperate waters.
Wing/Air Bladder
The next component to look at is the wing or air bladder. It provides the lift and buoyancy for the diver. The choice is mostly based on how much lift you need. That in turn depends on whether you dive with one or two tanks, overall weight and lastly on whether you dive in warm or cold waters.
It's often the easiest to match the wing with the backplate from the same manufacturer. The Hollis Elite Backplate system is a wing that works nicely with the backplate shown above. Click below to get further information and reviews at Amazon.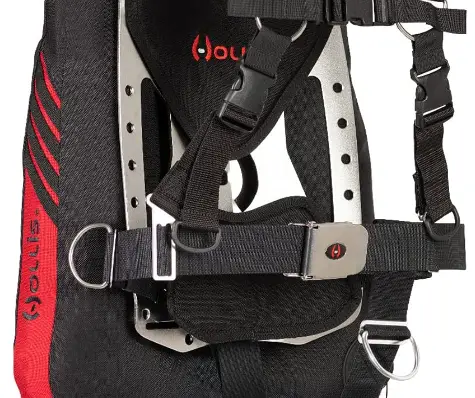 It's pretty obvious that higher weights, e.g. two tanks will require more lift. However, it's also important to that you consider your environment. If you usually dive in cold waters then you need more lift compared to diving in warm waters.
Lastly, when you look at the wing, you want to take the shape and technical features into consideration. They do come in various shapes as well as different designs. You can get single or redundant bladders, pick different locations for the wing as well as have a choice with regards to material, color and technical features like the number of relief valves.
Harness/Harness Hardware
The harness and its hardware are the last components of a backplate and wing BCD. The most common choice are single piece harnesses. They work well and reliable and are long lasting. On top of that they are reasonably inexpensive.
There certainly are also higher end varieties that offer padding on the shoulders or have quick release buckles. These do overall offer more comfort and have more ability to be adjusted but typically are also more expensive.
Sidemount BCD
Sidemount systems are the latest variant of BCD's to be available. As the name indicates the tanks with these BCD's are mounted under your arms instead of on the back. This mounting option was first used in cave diving as it allows to maneuver tight areas. Technical divers then took these BCD's and used them to get rid of the heavy double tanks on their back. In the meantime more and more divers are considering or using a sidemount BCD when diving recreationally.
One such sidemount BCD that gets great reviews is the Hollis SMS75 Sidemount Harness BCD. Click below so you can check out the reviews it gets at Amazon.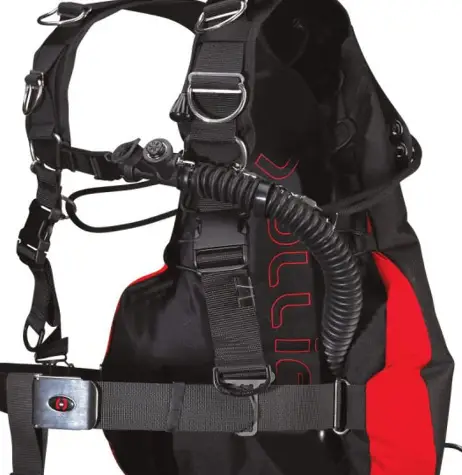 Most lower priced sidemount systems work great when diving with a single tank or with aluminum tanks. When using steel tanks with a dry suit you're best of using smaller tanks. These smaller and more minimalist sidemount BCD's are a great choice when travelling or for diving in warm environments. They do not use much space but they also do not provide the necessary support and adjustments you might need when diving with a drysuit and large steel tanks!
There are also higher-end sidemount BCD's hitting the market which are designed to be used in colder climates and with large steel tanks. These are also the systems that you'd look at for cave or technical diving. You can find sidemount systems in this category that not only support side mounted tanks but additionally back mounted tanks.
Travel BCD
Travel BCD's are not really a specific type. You would categorize a BCD that is easy to travel with. So, they would be light, easy to fold and fit into a suitcase without a problem. There's no exact definition of what makes a travel BCD but the three criteria above would describe it pretty well. Many modern travel/compact BCD's weigh so little that you can fit them in a carry-on bag in the plane!
A BCD that is specifically designed for travel without compromising quality and performance is the Cressi Ultralight BCD. Click below to get more information about it at Amazon.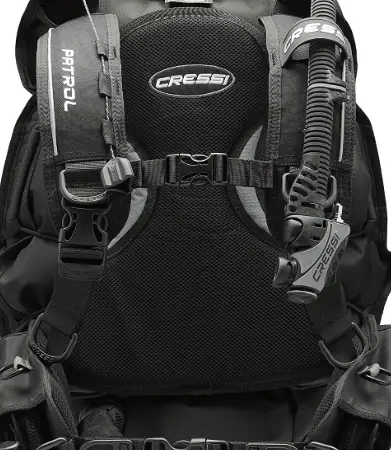 Having such a compact and light-weight BCD does not only have advantages. There are some downsides as well. First, these smaller BCD's usually have a lower lift. That makes sense as the trip often (mostly) ends up in a warm destination. Warmer environments mean that you'll use aluminum tanks and as such the lower lift is acceptable.
Next, these types also have a low buoyancy. To reduce the weight and bulkiness, they have less padding and are overall a little lighter than a regular BCD. That results in less weight being needed for them to sink.
Women BCD
The number of women that take up scuba diving is rising all the time. That also caused the manufacturers to design BCD's that specifically are fitted for women.
The Zeagle Zena (below) is a great example of a BCD that is specifically designed for women. Click below to find out more about it at Amazon.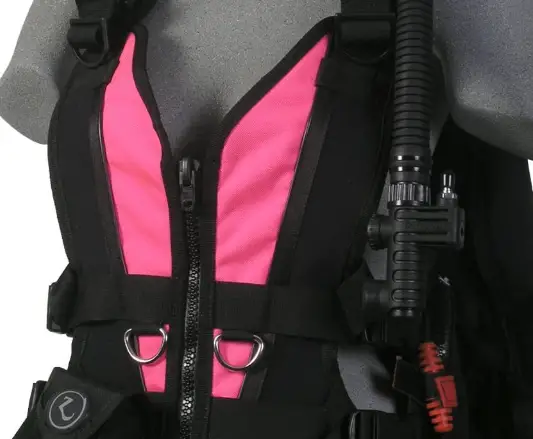 You can expect to see three things different with a BCD designed for women compared to the unisex or male models:
Shorter build in the length of the torso
Less width in the shoulder straps
More padding on the shoulder straps and designed to curve away from the chest and back
These three design specifics allow the BCD's to fit a woman's body better and make it more comfortable to wear and dive.
Children BCD
There's not that much to choose from when you're specifically looking for a kids BCD. Many BCD's have a XS sizing option that often fits children.
Otherwise, look at specific children and youth BCD's which are really nothing else than smaller versions of adult BCD's. They are shorter. They also provide less lift as they don't need that much.
A good example is the ScubaPro Rebel Youth BCD. It's fitted for children and youths and works nicely. Click below to get more information about it at Amazon.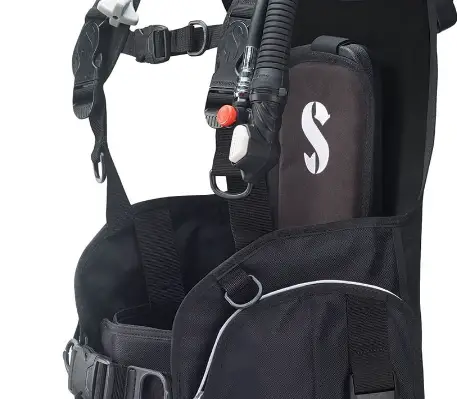 Alternatively, you can also get a short backplate and build a BP/W system for your child. That can end up more complicated than simply buying a BCD but you can get one that perfectly fits your kid until he or she grows out of it.
The problem with kids and BCD's is that they eventually grow out of it and you have spent a few hundred dollars on a BCD that nobody in the family can use anymore. It might make more sense to either rent a BCD for your child when  you go diving or to explore options on where and how to sell it used.
Conclusion
There are quite a few types of BCD's to choose from. Ultimately, there's no perfect choice that suits everybody. Many, if not most recreational divers will be perfectly happy to use a jacket or back inflated BCD. Technical divers prefer the BP/W design or the sidemount BCD's. If you're into cave or wreck diving then you definitely want to have a closer look at a side mount type.
You should ask yourself what kind of diving you're realistically going to do over the next few years. If you can rule out technical, cave or wreck diving then there's no reason to go and get a side mount or BP/W type.
Next you need to figure out whether you want a BCD that's capable of having weight integrated or not. Quite a few divers are very happy to not wearing a weight belt and as such need a BCD that has pockets for weights.
Leave us your comments below and please share your experiences. We love hearing from you!