Zeagle Scout BCD Review
The Zeagle Scout BCD has been around for a while. It is a lightweight system which makes it perfect for travel.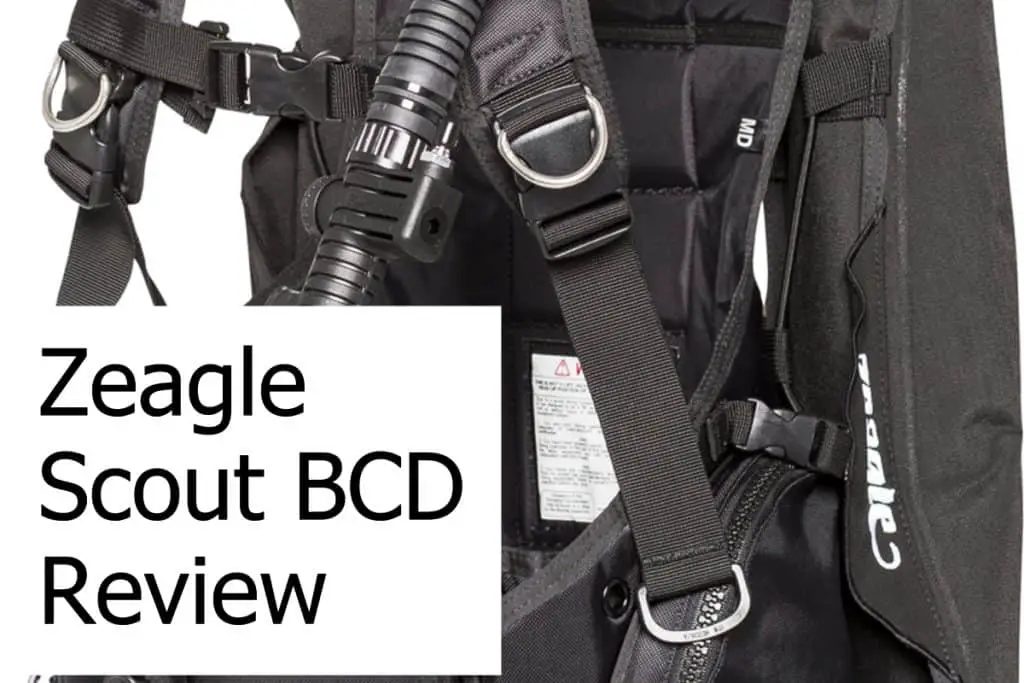 Even though this BCD is light in weight, it is sturdy and built with the highest quality materials. The Scout is designed as a low-profile back inflated BCD. It consists of a single air bladder in the back. You also find the integrated weight system in the mid to lower back.
The Zeagle Scout is a back inflation Buoyancy Control Device. It's easy to adjust and get comfortable with. It's overall a great BCD that is reasonably priced for the quality and features provided. 
What we like
Easy adjustments
Lightweight and small
Low profile back inflate BCD
What we don't like
Weight pockets in back not accessible by diver
Summary
The Zeagle Scout BCD is easy to use and transport. Its low profile build and lightweight make it a great choice for travel and warm water diving. It offers sufficient storage space and has a built-in weight system.
The material quality is of the highest standard which will make it your BCD for the next years to come. The only downside is that the weight system is positioned in the back which does not allow you to reach the weights and ditch them if necessary.
Pricing is very competitive and you will have a hard time finding a cheaper BCD in this class.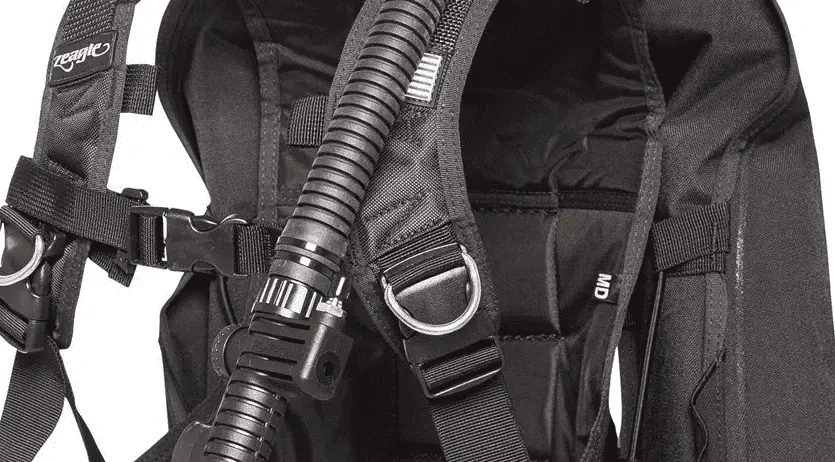 Review of the Zeagle Scout Buoyancy Compensator
The Zeagle Scout is best used for warm environments and for travel. It's low in weight and offers a low-profile design. The single air bladder is in the back.
The integrated weight system is found in the middle-lower back. It's capable of storing up to 16 pounds in the weight pockets. This is, unfortunately, a rather bad place for keeping all the weight on this BCD.
There is no way for a diver to reach the weights if they'd have to be ditched. In case of an emergency, it would thus either have to be your dive buddy that can remove them or you'd have to drop the whole BCD.
It's understood that this should never happen but it is something you might want to consider. You might want to at least have some weights in the storage pockets or use a weight belt. Both are easy to reach if you had to.
The lift capacity on this BCD is 24 lbs. The dry weight of this BCD is 6.7 pounds. A nice feature is that you can fold the BCD down so it's a compact package for traveling.
Technical Specifications
Low profile back inflated BCD
Two pockets with zipper
Four D-rings for attachments
Adjustable straps
24 lbs lift capacity with a single bladder
16 lbs integrated weight system
Inflation System
The Scout has Zeagle's Bx power inflator system. It's been used on many of Zeagle's BCD's and has received high praise from many divers.
It is super easy to clean as you can hook up a garden hose to rinse out the bladder. There's no need to try to get fresh water through the mouthpiece of the inflator. You can simply rinse it out and clean it with the garden hose.
The inflator comes with a 3/8" low-pressure hose. It offers a quick disconnect mechanism and you can easily attach that to the first stage regulator.
Storage
Zeagle's Scout offers sufficient storage capacity with two rather large pockets that close with zippers. There's enough storage space in these pockets for a dive light, gloves, and other small accessories.
Other accessories can be attached to the four D-rings. Two of them are on the shoulders and two on the waist. They are sturdy in the build so you can attach pretty much any kind of dive accessory you might need to bring.
Adjustments and Comfort
The harness offers a variety of adjustment possibilities to provide a custom fit for you. The waist, sternum and torso straps are all adjustable. The Velcro cummerbund can be adjusted to three positions to increase the overall comfort of this BCD.
The strap buckles are all equipped with side releases that simply need to be squeezed for opening. This offers easy closing of the straps when you put the BCD on or take it off.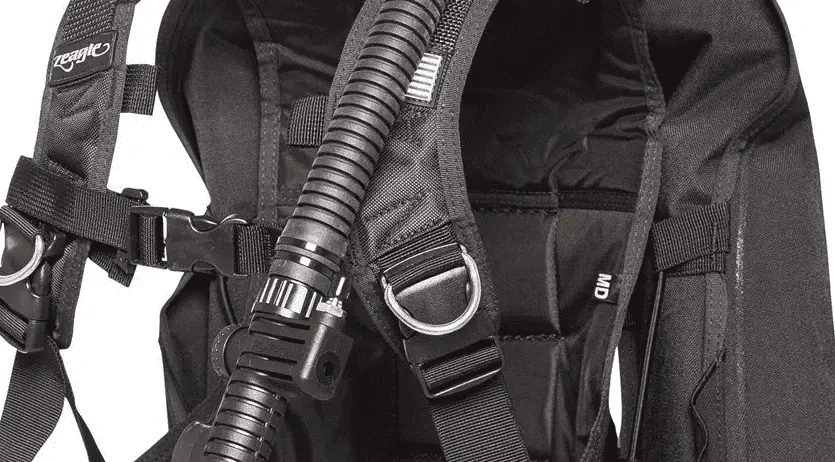 Where to Buy?
You can find the Zeagle Scout BCD both online and at local dive shops. Reputable online retailers like Amazon also often offer packages where the BCD is combined with a regulator and/or octo. This can save you some money if you need to get both pieces of gear.
Customer Feedback
When you look at the reviews of divers owning this BCD, the feedback is overall very positive. Some complain about the cummerbund bunching up in the back or the sturdiness not being there compared to other, heavier BCDs. The main issue here seems to be that it's harder to put the BCD on as it's not as stiff.
However, the majority of divers that use this BCD love it. They love the compact size and low weight which makes it easy to travel with.
Conclusion
If you're looking for a reliable, high-quality BCD which you can take with you on your travels then the Zeagle Scout is a great choice. It will be your dive companion for years to come and will not let you down.
It offers all the features you'd expect of a BC and really has no downsides. The only criticism is based on the location of the integrated weight system. It's positioned in the back which makes it unreachable during a dive. If you need to ditch weight you will have your dive buddy take care of that. You can get easily around that by using the two pockets to store weights or by using a weight belt.