2
Mares Puck Pro Dive Computer Review
The Mares Puck Pro dive computer provides the essential features expected from an entry-level scuba diver computer. This, in addition to its affordable price, makes it an excellent choice for beginners and experienced divers that want a backup to their more sophisticated device.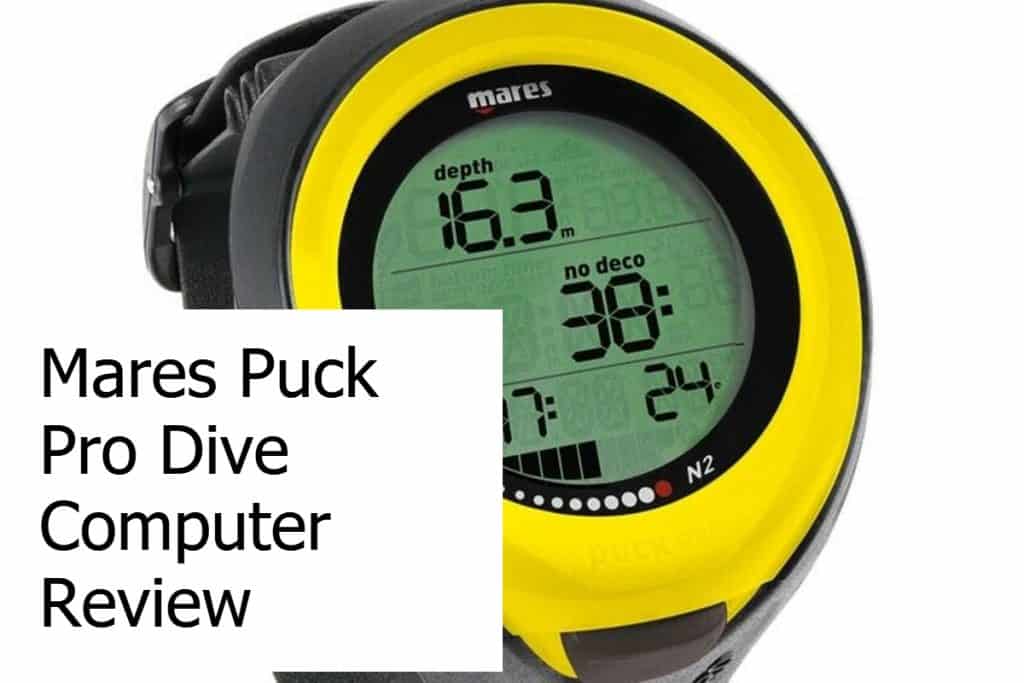 Mares had introduced the Puck dive computer in 2008. It turned the market upside down with its simplicity. The concept of a single button to navigate all functions was new, and specifically, new divers loved it.
This is the successor of this original Puck dive computer, and it has some significant improvements while still providing one button navigation for changing the menu and settings in this dive computer.
Mares in the meantime has introduced the Puck Pro Plus as the successor of this device. You can find our review of the Mares Puck Pro Plus at https://www.deepbluediving.org/mares-puck-pro-plus-review/.
Mares Puck Pro Wrist Computer Review Summary
The Puck Pro dive computer is suited for the beginner or as a backup device for experienced divers. As the name suggests, the unit is roughly the size of a hockey puck. Therefore, it's clear that you can't wear it as an everyday wristwatch.
Mares kept the navigation simple and straightforward. The one button on the front allows you to step through the menu choices and select your options. The pricing of this unit is affordable and fair overall for the features and quality you get.
What we liked
A large and clean display
Simple to use
All features that a beginner diver could need
Large logbook to store dive information
Off Mode to take the computer out of dive mode completely
What we don't like
Too big to wear as a watch
Summary
The Puck Pro from Mares is the successor of the widely used Puck dive computer. It builds on the simplicity and ease of use of the original device, yet improves where things could be improved. The simplicity is the outstanding feature of this entry-level dive computer. 
Compelling arguments for the Puck Pro diving computer are the simple navigation with one button and the great price you can get this dive computer for. It doesn't have any advanced functionalities, but none of those should be expected at this price point!
Overall it's an excellent dive computer for the beginner diver or if you're looking for a backup.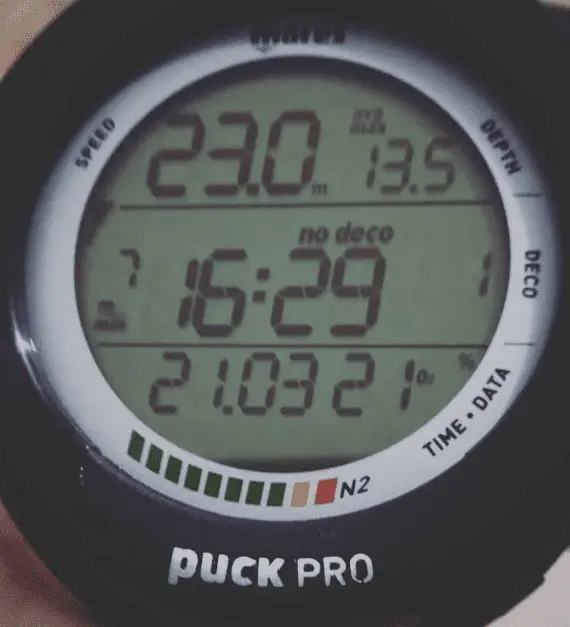 Overview and Review of the Mares Puck Pro
The Mares Puck Pro is a large scuba computer. Some compare it to the size of a hockey puck. This does have advantages underwater, as it's easy to read the information on the display. It does mean though that you can't use it as an everyday watch.
It is available in a variety of colors:
Black
White
Yellow
Lime
Red
Blue
Capabilities
The Mares Puck Pro dive computer might look like a wristwatch, but this dive computer is quite a large device. It's over 2 inches in diameter and close to an inch thick.
The large size allows for a large screen that displays all relevant data without having to search for it. There are three different dive modes available:
Air dive mode
Nitrox dive mode
Gauge dive mode
​The large size allows displaying all necessary information on the screen while still providing a great fit on your wrist. The single button navigation works excellent even if you're wearing thick gloves.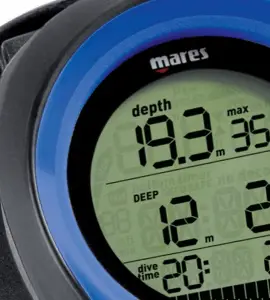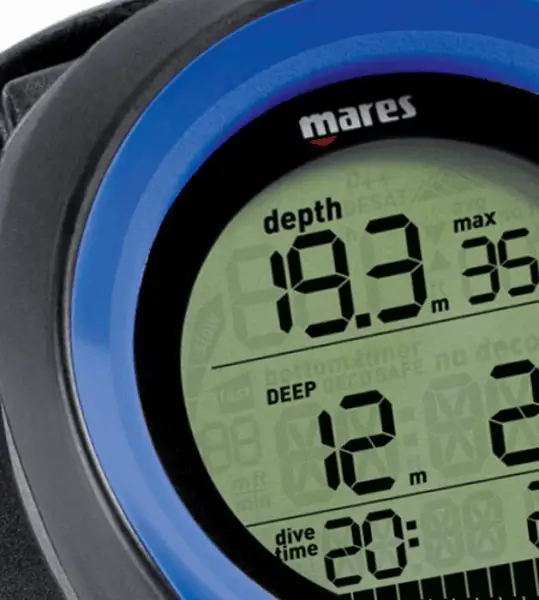 However, it can be a little tedious to have to scroll through all options as you only have one button to move through the different functions on this dive computer.
The display comes with a sufficiently strong backlight. The backlight duration can be set from 1 to 10 seconds to preserve the battery.
Even if you end up draining the battery, one of the nice features of the Mares Puck dive computer is that you can switch it yourself. You can open the battery compartment, replace the battery, and close it without sending the unit off to a service center.
It features audible and visual alarms:
Ascending too fast
Exceed safety for ppO2/MOD
Nitrogen saturation equal to 100%
Decompression stop violation
Low Battery
Technical Capabilities
The Puck Pro is capable of handling oxygen mixtures between 21% and 99% for Nitrox diving. You can adjust the pO2 levels between 1.2 bar and 1.6 bar. This is overall what you can expect for most dive computers today.
The max. depth is up to 150 meters (492 feet). Altitude adjustments can be made up to 3,700 meters (12,100 feet).
The underlying decompression algorithm of this dive computer is based on the Mares-Wienke RGBM model. The conservatism of the algorithm can be adjusted through different settings.
This increases the safety limits if you prefer to stay in more conservative and safer regions.
Dive Log and Connectivity – Logbook Memory
​The dive log has a capacity of up to 36 hours for its logbook memory at a sampling rate of 5 seconds. This provides a reasonably sized log of your most recent dives.
You have to wait until the data is overwritten as you can't delete from the dive log yourself. You need to transfer your dive log to a computer if you want to avoid data to be overwritten.
Connectivity to your PC
The USB connector is sold separately. It allows transferring your dive data to a computer where you can analyze it further and use the data to plan future dives.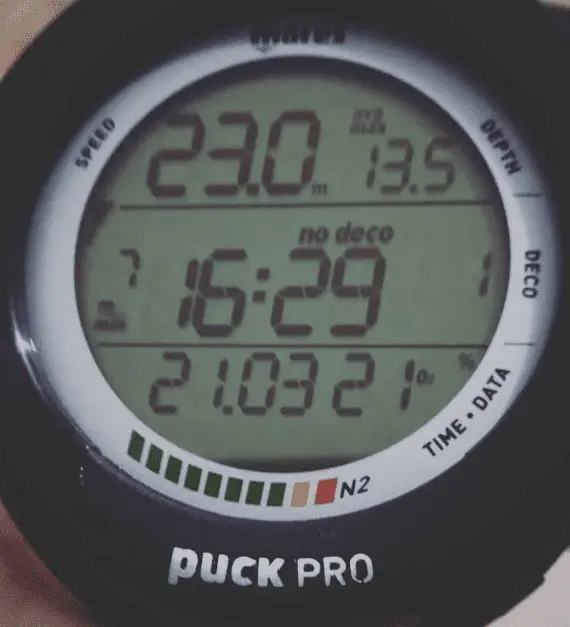 Do you need to know how to use dive tables when you have a dive computer?
Missing Functionality
Any entry-level dive computer like this one has features missing that are available in higher-end dive computers. It is in line with pretty much all other essential dive computers and is missing capabilities like a built-in compass and air integration.
Beginners will miss neither of these features and as this scuba diving computer is designed for that group, it's not an issue that the functionality is not there.
It's overall good that a beginner will not find a compass or even air integration in the unit. It might end up being too confusing about having to step through all the different menu options with one button.
As such, not having those features is acceptable and doesn't take anything away from the Mares Puck Pro wrist diving computer is a great choice.
Not able to be expanded
Unfortunately, this also means that you can't expand the capabilities of this dive computer and will then, later on, have to upgrade to a different device. You can always keep the Puck as your backup scuba watch, though.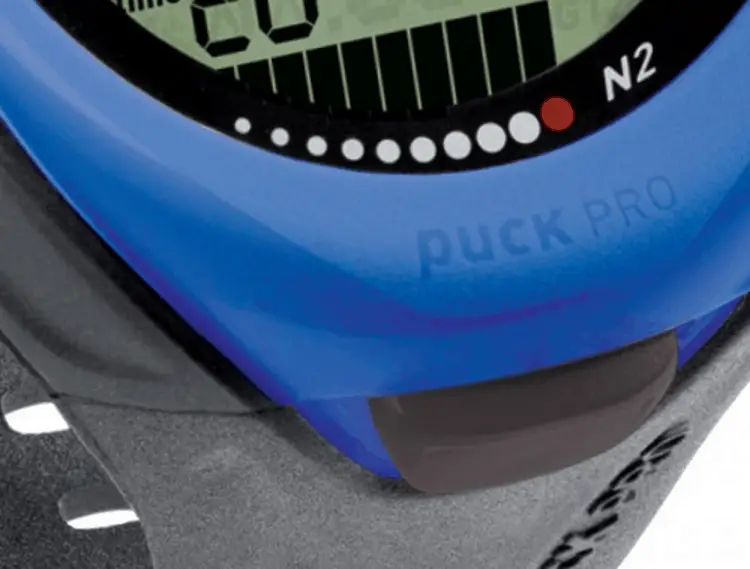 Suunto Vyper Novo Review – Is it an alternative to the Puck Pro?
Features/Specifications
Simple single-button navigation
Large and easy to read display to show all important information on the screen
Three dive modes for Air, Nitrox, and Gauge
Audible and visual alarms
Nitrox settings between 21% and 99% with PO2 settings ranging from 1.2 to 1.6 bars
Mares-Wienke RGBM algorithm
Maximum operating depth 150 meters/492 feet
Four altitude settings up to 3,700 m (12,100 ft)
Supports both imperial and metric data display
Dive log up to 35 hours with a pre-set 5-second sampling rate
User-replaceable Lithium battery (CR2450)
Six different colors
2 year limited warranty
Pros and Cons
The Puck Pro by Mares is an excellent diving computer for a beginner or to use as a backup device for an experienced diver. It is built solid and will reliably work. Mares has done a great job improving on the already excellent Puck.
Pros
Easy to read display to show all important data
Adjustable RGBM algorithm
Three different dive modes (Air, Nitrox, and Gauge)
Easy connection to a computer
Simple navigation with single button interface
Easy to use even when wearing thick gloves
Cons
No built-in compass
Missing air integration
Too large to use as a wristwatch
​You get all functionality you would expect from an entry-level scuba diver computer. It's missing the bells and whistles that can be found in more expensive dive computers like a compass or air integration. This missing functionality is reflected in the rather low price of this scuba computer.
Cannot purge dive log
The dive log can't be purged, which makes it not usable for dive shops that rent out computers. This is not a detrimental factor assuming that many beginner divers will probably want to purchase their device to build up their dive logs, etc.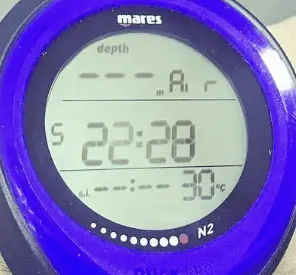 Where to Buy the Mares Puck Pro?
Being one of the most popular scuba diving computers you can get, it's pretty much available at any local dive-store as well as online. You might find the most color choices online at large retailers like Amazon.
Customer Feedback
You can find many comments online from other divers about the Mares Puck Pro wrist computer. Overwhelmingly, the feedback is positive.
The only issue we saw in the reviews is that you need to replace the o-rings when you need to change the batteries. You should be aware of that so that you can order them separately beforehand.
One other review stated that the dust cap on the battery compartment was not correctly placed when they received the device. They didn't know that at the time, and when they went underwater, the battery compartment flooded and rendered the unit useless. They could return it, but you might want to check that the battery compartment is correctly closed before use!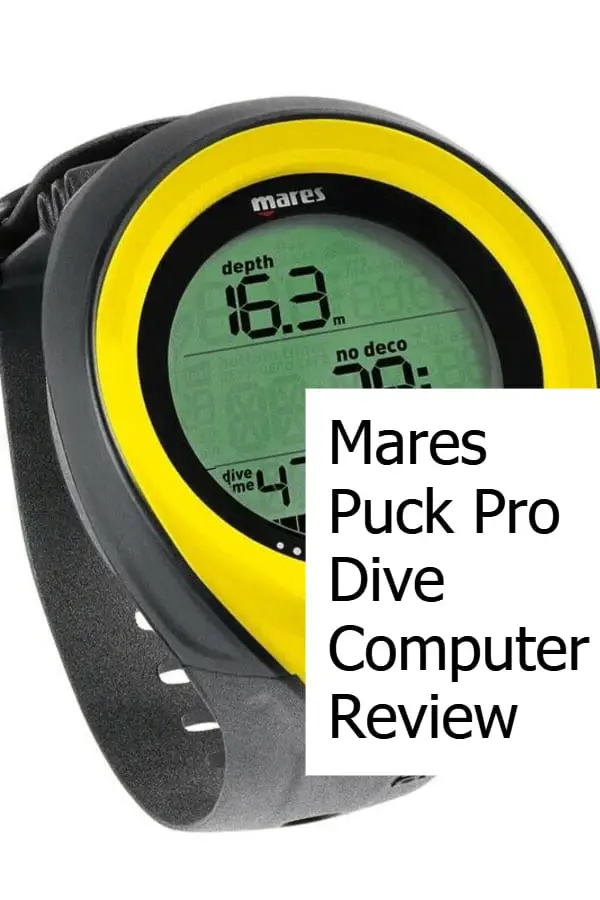 Final Thoughts – Mares Puck Pro Review
To conclude this review, it is a cheap yet reliable and efficient diving computer. While being an ideal choice for entry-level divers, it could serve the purpose of a decent backup for experienced divers.
With such a low price, it would be a mistake to expect advanced features that are only present in high-end devices. So before you make a buying decision, it would be a good idea to think about your requirements.
Compare those with the pros and cons highlighted in this review. This will help you in the decision-making process.
If you decide that the Mares Puck Pro is suitable for your needs then you will definitely be satisfied with your purchase. It provides all the necessary functions and works reliably.​
Who is the Puck Pro not for?
​If you gained more experience as a diver and require features like a compass or air integration then this is not the right computer for you. You will have to look at higher-end dive computers like the Suunto D4i Novo to provide such features. Entry-level dive computers simply don't offer features like that.
The Mares Puck Pro does its name justice. It's puck-sized and as such not usable as a watch you wear every day. On the bright side, this does allow for a large screen to display all important information.
If you are looking for a basic dive computer you can use as a watch then have a look at the Mares Smart among a number of other dive computers with a small form-factor and lots of capabilities.
Go for the Mares Puck Pro Plus instead?
If you're looking for Mares' newer device in the Puck family, the Puck Pro Plus, then check out our review! The Mares Puck Pro Plus dive computer keeps with the tradition of the Puck series yet has some very useful improvements that might interest you!
One of the compelling features is that the Puck Pro Plus has Bluetooth connectivity which makes downloading your dive log to your PC easy and without the need for setting up cables to link the Puck Pro Plus to your PC.
The Puck Pro Plus has added some features that are somewhat unexpected within the realm of entry-level dive computers. The most notable being the already mentioned Bluetooth capabilities for easy and seamless connections to your PC.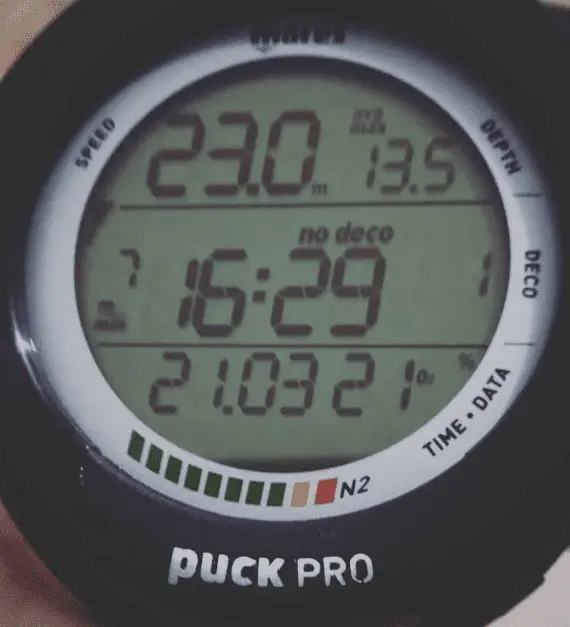 Infographic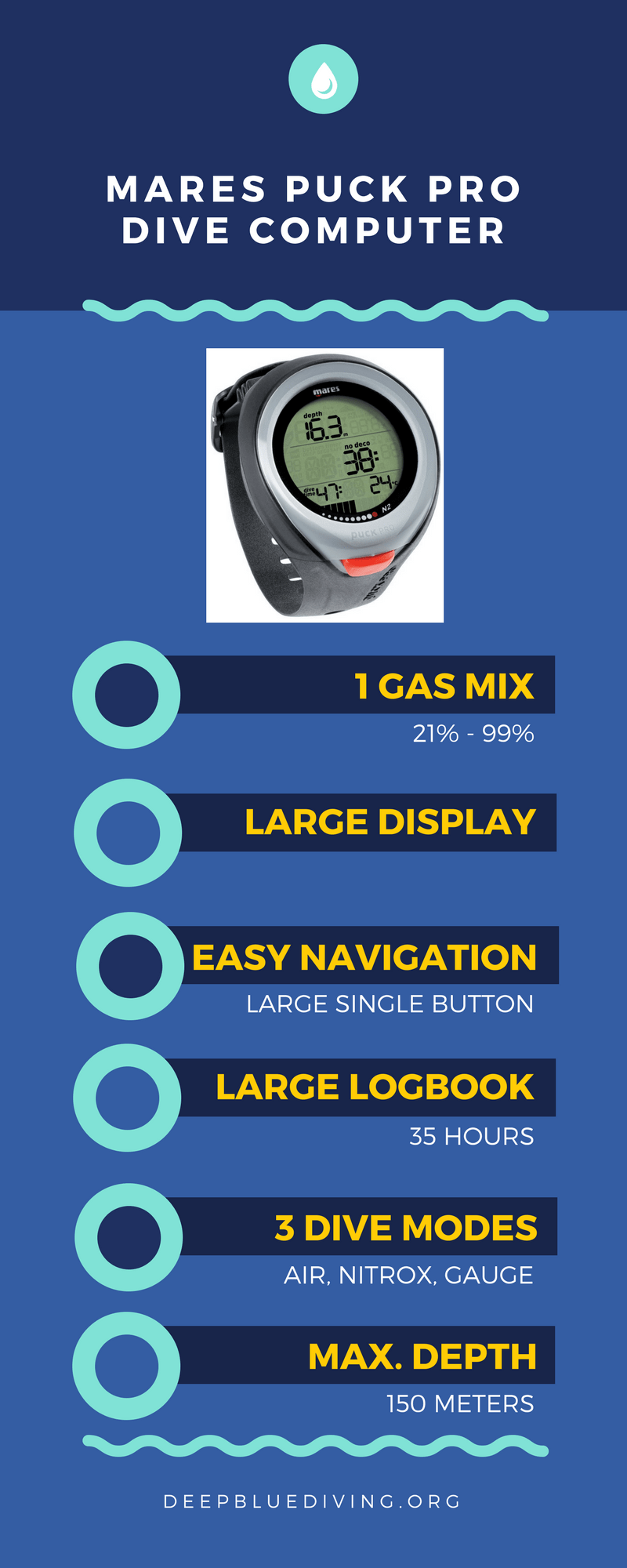 ​Use the code below to share the infographic on your site: