Garmin Descent MK1 Review
As far as dive computers go, the Garmin Descent MK1 has made quite an impression among scuba divers. For years, Garmin has been manufacturing precision outdoor and marine technical equipment. This is the company's first dive computer, and it's chock full of some truly incredible functions and features.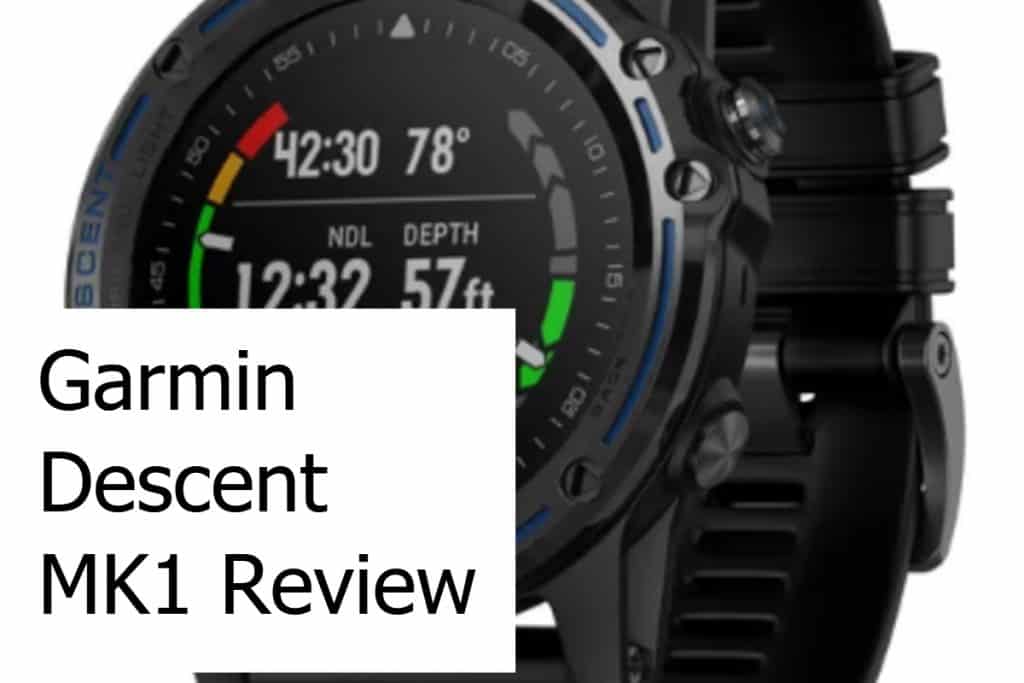 Catering to a range of nautical uses (including both those above and below the surface of the water), the Garmin Descent MK1 dive computer is certainly not the most budget-friendly dive computer on the market, but with the high price tag comes high performance.
Using the same technology as some of its best sports watches, Garmin has created a sleek smartwatch that includes a range of features, such as an HD color display, GPS navigation, a range of dive modes, and even a heart rate monitor. It has a pretty excellent battery life: 40 hours for diving, 20 hours for GPS, and 10 days as a regular smartwatch.
Who Is the Garmin Descent MK1 Best for?
This is clearly a premium dive computer that is designed for people who dive nearly every day and are likely to use all or most of the functions it offers. For those divers, it is worth the investment. You can choose between a silicone wristband and a DLC titanium band.
The Garmin Descent is fit for a range of purposes, such as spearfishing, professional, and casual scuba diving. It is ideal even for beginners who may not fully understand decompression models and in some regards offers more capabilities than many other dive computers on the market today.
Technical Components of the Garmin Descent MK1
Let's dive into the core features of this dive computer that make it worth the investment to buy a Garmin Descent MK1 dive computer:
Multiple Dive Modes
The Garmin Descent features 6 different dive modes:
Single Gas – this is the mode you should set if you're using the standard mix of compressed air.
Multi-Gas – divers may use different gas mixes such as nitrox or trimix that contain a blend of a number of gases such as helium or argon and have a lower nitrogen content. Such dives may allow you to go deeper or spend more time underwater, and the multi-gas mode will gauge your decompression stops, etc. accordingly. The watch can accept data of up to 6 different gases at a time (with the first being a base gas).
Gauge – this mode is for standard, no-gas diving.
Apnea – apnea refers to holding your breath underwater as you dive, or in other words, free diving.
Apnea Hunt – this mode is somewhat similar to the previous one but serves a different purpose. It is generally set when spearfishing. The main difference is that the audible alarms for start and stop are disabled.
Plan Dive – this is essentially a dive calculator, with which you can compute your Non-Decompression Limit based on the depth you're planning on diving. You can even create an entire decompression plan for your dive. You will also need to insert repeat dive data. There is also a "Deco Plans" option where you can customize settings such as entering the type of gas mix being used to get more accurate figures for your decompression stops. 
It is possible to switch gases and gas settings on the Garmin Descent during your dive, but the process does require fiddling with some buttons underwater, and you may get incorrect depth or time notifications occasionally.
The dive computer operates on the Bühlmann ZHL-16C Algorithm Model of decompression to calculate NDL and decompression stops. This is one of the most commonly used algorithms in scuba diving computers. It takes your depth, time underwater, and gas mixture into consideration to determine safe diving parameters. You can adjust the conservatism settings of the algorithm to ensure you stay within your personal limits when diving with the Garmin Descent MK1 dive computer.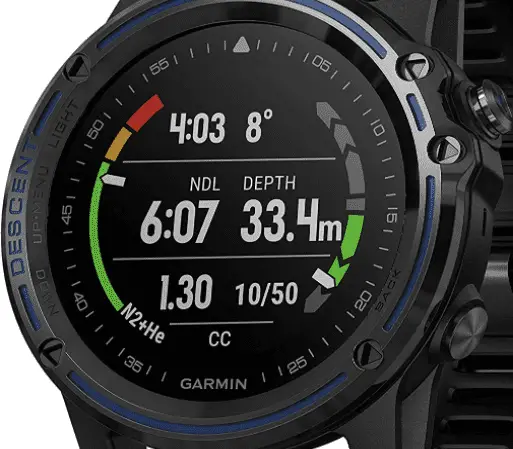 What is Apnea Hunt? Who needs it?
The Apnea Hunt mode in the Garmin Descent MK1 is the Apnea mode for freediving without the audible alarms. You might be wondering why anyone would need this? Well, if you're spearfishing then the last thing you'd want is to alert your prey with noise coming from your freediving computer.
This dive mode of the Descent MK1 allows staying quiet underwater while using the apnea or freediving mode. This is probably not anything that many freedivers will use but if you're into spearfishing then it's a great addition to the standard modes that are available.
Automatic Switch On/Off
Rather than having to manually start and stop your dive computer before beginning your descent and after ascending (which would really be something at such a premium price), the dive computer automatically detects when you're in and out of the water. This is enabled through the GPS function of the watch.
Altitude Adjustments
The Garmin Descent offers automatic altitude adjustment, but you need to calibrate the watch to enable this feature. You may do this manually or turn on Auto Cal., which will allow the altimeter to self-calibrate every time you turn on your GPS tracker.
Display
The dive computer has a 1.2-inch color display, which is always on and is semi-readable underwater. The backlight on the Descent MK1 is adjustable so that you can alter the brightness based on your altitude.
Double-tapping the screen will allow you to switch between screens – this will work even if you are wearing thick gloves that prevent you from pressing the buttons. The screen display shows up as 3 separate pages:
Dive time, depth, water temperature, maximum depth, average depth, ascent/descent rate
Compass heading and direction, depth, water temperature, and dive time.
Heart rate and zone, time, water temperature, depth, battery level, and dive time.
Since managing your dive time is so essential, it is displayed on all three pages of the screen.
Reset Option
This is often considered to be an important feature if the dive computer has been purchased by a dive store that rents out equipment. It is also quite handy if, at some point, you decide to sell your dive computer.
The Garmin Descent has a factory reset option, which will make it brand new and even make its processing speed faster. Within the Descent MK1 settings is a restore default option through which you can reset the dive computer.
Dive Information Storage and Connectivity
The dive computer records dive data in real-time and create an internal log as soon as you get in the water. Real-time data displayed includes the time of dive, depth, water temperature, etc.
The Descent MK1 has a storage capacity of 16 GB, which enables it to store data of up to 10,000 dives. If you're someone who dives daily, sometimes, even more than once, you will need access to your dive data to observe dive timings, etc.
The Garmin Descent can connect to your laptop via a USB cable or to your smart devices via Bluetooth and includes WiFi connectivity.
You can also sync your watch to the Garmin Connect app to have easy access to dive data such as maximum depth, time spent at the bottom, water temperature, and GPS data so that you can keep track of your stats and improve your dives.
Optional Features
The watch also has a number of features that aren't absolutely essential for a dive computer but are still quite useful:
GPS Map & Tracking
You can view entire maps or plotted points on either your watch or on your phone through the Garmin Connect app. GPS tracking starts automatically when the watch is in dive mode, but you can customize the settings to mark your ascent/descent points from the shore and to locate water regions that have the most fish to observe.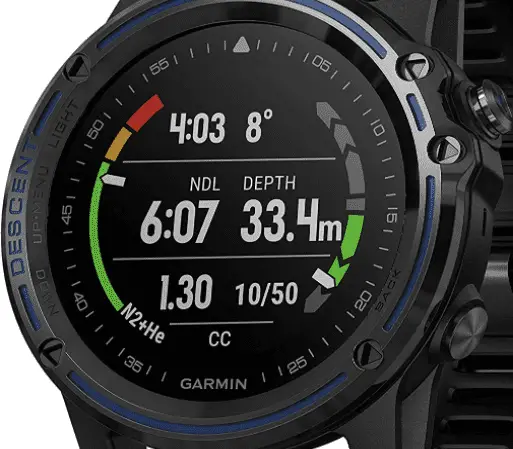 Real-Time Alerts
You can set in-water alerts for factors like dive time, multiple depth markers, etc. If there is a change in water pressure, the watch will automatically record your dive. All this allows you to dive freely and focus on enjoying yourself rather than fiddling with your watch to find out which depth you were meant to take a decompression stop at and so on.
Measures Physical Wellness
The dive computer makes use of Fenix 5X software, which keeps track of your fitness activity through 26 different settings.
In addition, the watch has a built-in heart rate monitor, which will help you keep track of your heart rate when you're underwater and will keep you alert in case of emergencies.
Compass
With the compass mode on, you can not only keep track of where you're headed but also simultaneously keep an eye on your decompression information.
Short Falls of the Garmin Descent
Despite offering some incredible features, the Garmin Descent is not free of shortcomings:
For starters, the watch does not have air integration – this feature allows divers to see how much air is left in their tank through the display screen. For frequent divers, this is one of the topmost sought after features in a dive computer.
It does not have re-breather compatibility.
It has a depth rate of 100 feet/ 328 meters, which is limiting for technical and commercial divers.
Final Thoughts
If you love to dive every day or you're an active spearfisher, then the Garmin Descent MK1 is ideal for you (provided you have the room in your budget). The range of different modes makes this dive computer suitable for different types of dives, and its high storage capacity makes storing dive data a breeze. Its compatibility with computers and smart devices allows you to keep track of your dive activities as well.
Apart from functioning as a dive computer, it can also be used as a standard smartwatch.
Despite some major plus points, the dive computer is better-suited for casual divers rather than professionals due to some concerns such as a lack of air-integration and a short depth range.
If you like the Garmin MK1 then please use the image below to pin to Pinterest!