Liquivision Lynx Dive Computer Review
Unfortunately, we have to start this review off with some sad news, the Lynx or any other of the dive computers from the Liquivision Enlightened series are no longer produced. You can read more about this here.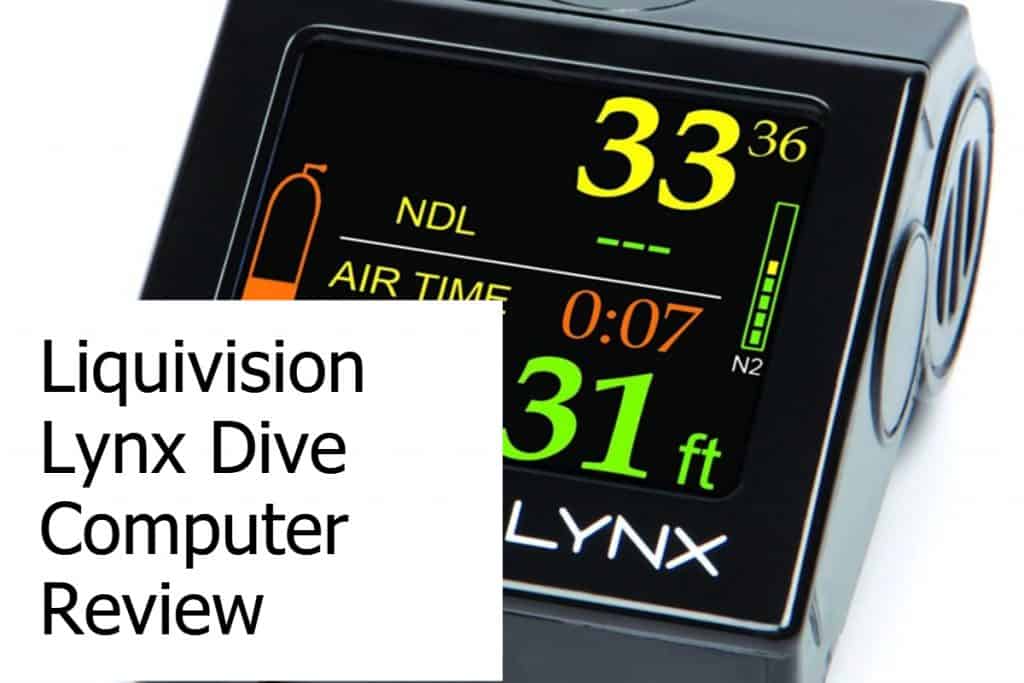 However, you can still find some devices on Amazon for sale. If you're interested in a high-end dive computer with sophisticated features, then you are able to get the Lynx at a great price.
Before you buy, though, make sure to read our review of this dive computer so you know what you might get. Even at a reduced price, you will have to pay quite a bit of money for this scuba computer.
Review Summary of the Liquivision Lynx Dive Computer
The Lynx is designed for experienced and professional divers and instructors. It is a large dive computer to be worn on the wrist.
Navigation is easy and reminds of modern cell phones as you tap on the screen to switch menus. Without a doubt, it's a pretty expensive device that targets serious and experienced divers.
What we liked
The display is large and bright.
Bright OLED display with crisp colors
Tapping navigation is easy to master
Complete set of functionality for experienced and professional divers.
Summary
This is one of the most sophisticated dive computers available today. If you're a beginner diver or you dive a few times a year, then don't bother to look at it. However, if you are experienced, and you dive a lot or even dive as your occupation, then this is a fantastic scuba computer for you. The only concern, in this case, is that there are a number of divers that have complained about the quality of the device.
Overview and Review of the Liquivision Lynx
When the Lynx was introduced in 2013, it was one of the best dive computers you could get. It features a bright and colorful OLED screen. The screen is bright enough to easily read the data on it in low visibility environments. From the first impression, this is the most outstanding feature of the Lynx.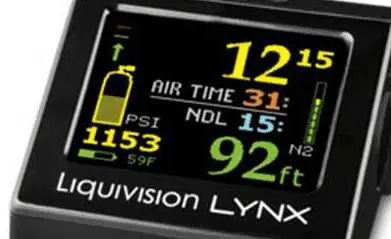 Capabilities
The Lynx shape is rectangular, and it is worn on the wrist.
It offers three different dive modes:
Rec
Tec
Gauge
While the brilliant screen is one thing, navigation is something different. There are no buttons to be found on this scuba computer. Navigation is performed through tapping on the screen. After a short period, this seems more intuitive than most other devices available on the market.
Under the hood, this model has to offer a lot more impressive technical features. First, it comes with wireless air integration that reliably works and displays the air pressure/remaining air on the display.
But that's not all when it comes to integration for this dive computer. You can connect your dive computer with up to 9 transmitters to monitor the air as well as the location of those nine other divers. This feature is excellent for dive schools where the instructor can control the air for all students without continuously having to poll them to get the status!
It also can be combined with a wireless transmitter that you can, for example, attach to a line underneath the boat. Your Lynx can then hone in on that location and guide you back. Kind of like a GPS for divers.
The technology used for this wireless integration is based on acoustic signals. This works exceptionally well underwater. Not so much above water, but that's not what it is designed for. The range for the transmissions is specified to be 100 meters/330 feet.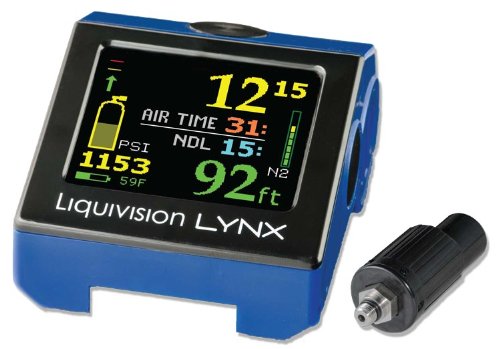 Technical Capabilities
The modes in the Liquivision Lynx are there to adjust the dive computer to the diver the best possible way. In Rec Mode, the Lynx is capable of handling a single gas mix between 21% and 40%. In this mode, you can monitor the tank pressure for his/her own (single) tank and up to 9 other divers if they have transmitters. You can track the location of these nine divers through their transmitters also.
In Tec mode, you can monitor up to three tanks of your own. These can consist of three different mixes between 21% and 100% O2. You will need three different transmitters to monitor your three tanks! It does not allow you to calculate remaining time, though, as it's only getting too complicated to do that. You can monitor the location of 7 other divers in this mode if they are equipped with the necessary transmitters.
The Gauge Mode includes a stopwatch and measures the average depth, which can be reset. In this mode, you also can monitor the tanks of up to 9 other divers if they have transmitters on their tanks. In Gauge mode, it is also possible to track the location of up to 9 divers.
In all modes, you can also monitor the location of a landmark transmitter that, for example, is providing the location of your boat. This transmitter simply replaces one of the diver transmitters you can monitor.
The Liquivision Lynx also offers the Bühlmann Mode. In this mode, you can set optional gradient factors to impact the underlying algorithm.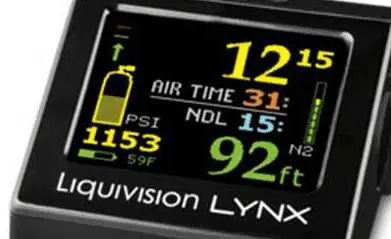 Other Features and Computer Connectivity​
As you can expect from such a high-end scuba computer, you can also find a digital compass integrated into the Lynx. Furthermore, there are additional features that allow you to plan and simulate dives as well as a dive log to store your information from actual dives. The Lynx can be connected to either a PC or Mac to transfer the log data. The interface to connect the Lynx to the computer is an optional module, though.
Another nice feature is that you can switch the battery. There's no need to bring it to a dive shop or service center.
Missing Functionality
There's nothing you could miss with this dive computer. The screen is excellent, and the functionality provided is comprehensive. There are practically no features that you would miss with this device.
Features/Specifications
Brilliant color OLED screen
Simple tapping navigation without buttons
Visual and audible alarms
Large display with bright colors
Dive mode settings for Rec, Tec and Gauge use
Three Gas mix settings between 21% and 100%
Bühlmann mode for setting optional gradient factors
Maximum operating depth 200 meters/656 feet
Operational on altitudes up to 8,840m/29,000ft
Data measured and displayed in imperial or metric units
User-replaceable battery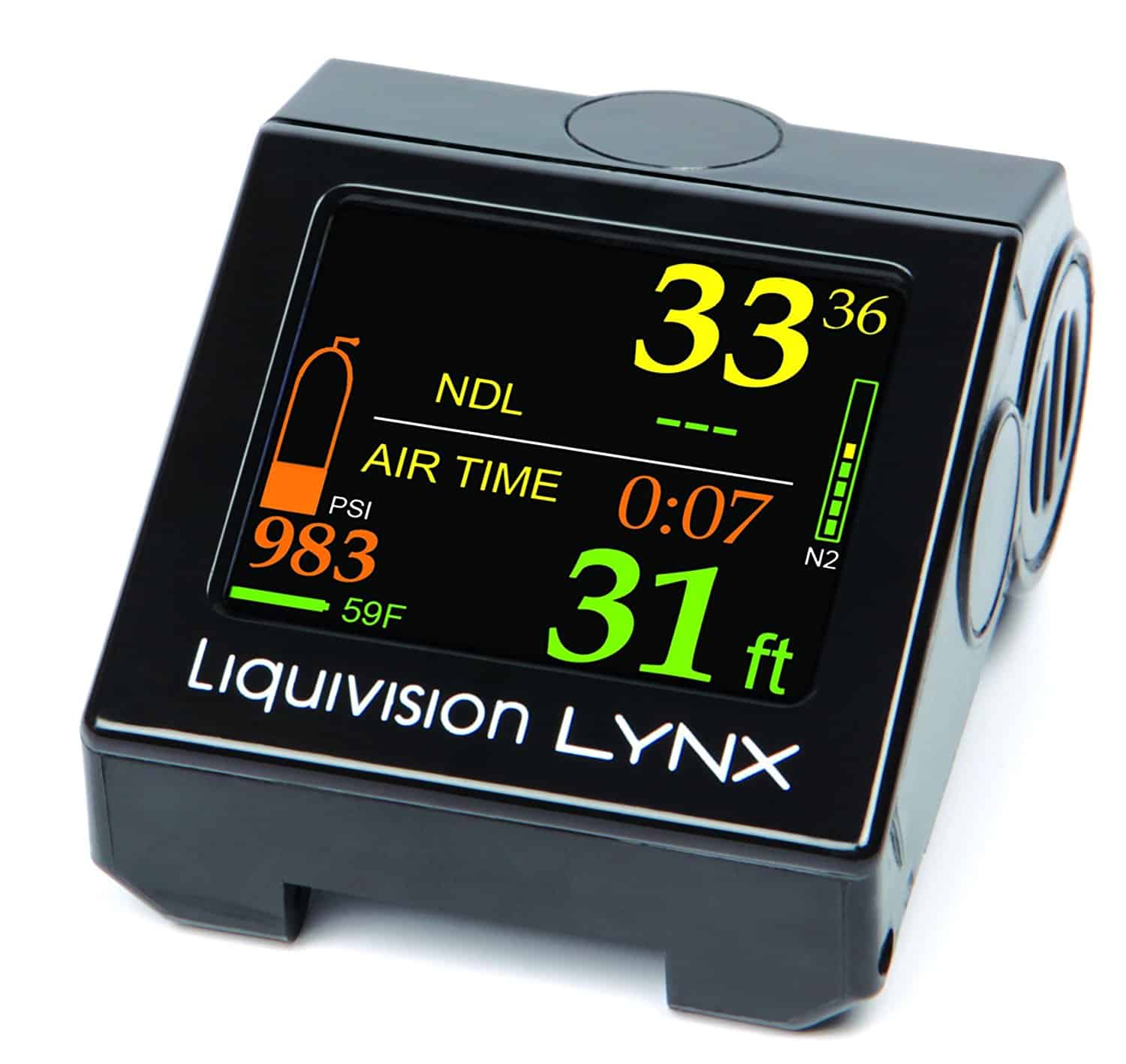 Pros and Cons
The Liquivision Lynx offers all the functionality required by an experienced diver. Whether you're a recreational diver or a professional, you will not miss anything with this device.
The screen is brilliant. It's an OLED display that provides bright colors and unsurpassed brightness. The pricing is on the high end of what you can pay for a dive computer but in line with all the functionalities you get.
Pros
Brilliant color OLED screen
Wireless air monitoring
Tracking air levels of up to 9 other divers
Location tracking of up to 9 other divers
Switch gas during a dive
Three different dive modes
Cons
Occasional complaints about build quality
Not a wristwatch
Where to Buy?
​As mentioned above, the Liquivision Lynx is no longer produced. You can sometimes find some last in-stock items at Amazon. With some luck, you might also be able to find one at a local dive-shop.
Customer Feedback
There are not too many customer reviews to be found on Amazon. The main criticism is the quality of how the Lynx is built. Otherwise, the functionality is spot on, and the device itself is innovative.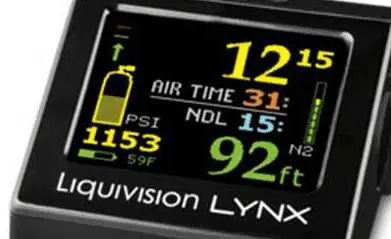 Conclusion
The Lynx offers all the functionalities you can imagine on a scuba computer. It's targeting the experienced diver and professional diver. Functionality and price go in line with this.
The display is simply amazing. It is sharp and displays all information graphically and in color. The screen is also very bright, and you can easily see the data even when it is dark.
Who is it not for?
​This is simple to answer. If you're not a very experienced diver or diving is your job, then this dive computer is simply overkill. Is it a cool device, and can you possibly gain the experience to use all of its features? Yes, probably, but you might be better off looking at a cheaper scuba computer that is tailored specifically to the recreational diving market.