A first look at the Dive Rite HP50 Lighting System
Dive Rite introduced a new lighting system, the HP50. It's a modular system that can grow with your needs as a diver. While not cheap to begin with, it's an outstandingly capable light system!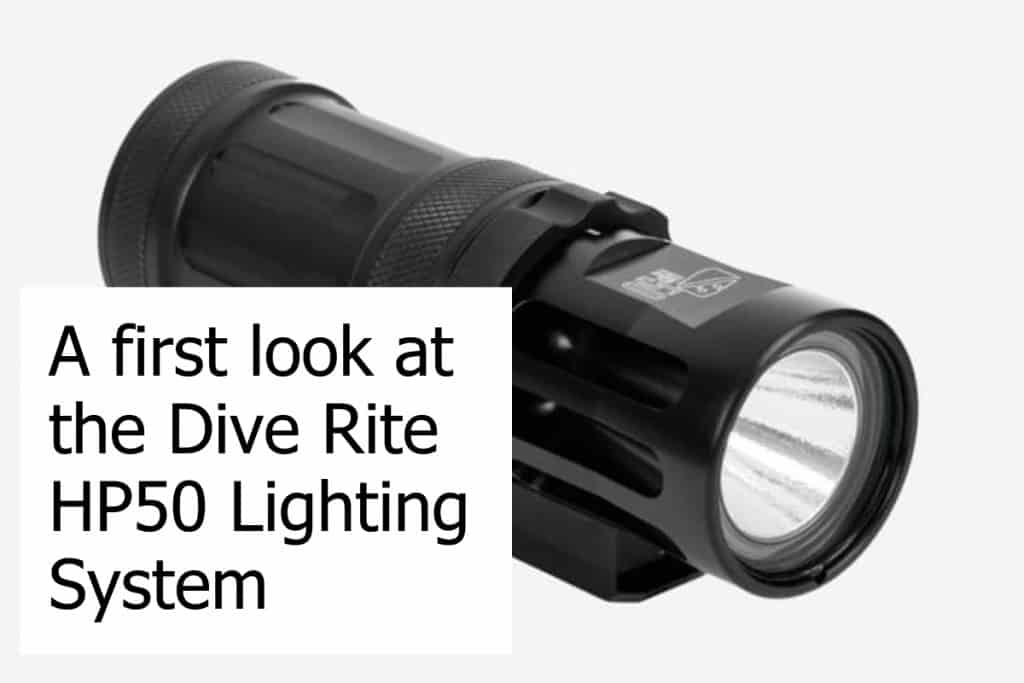 The first version of using the HP50 is to set it up as a regular hand-held scuba torch. But don't be surprised when you switch it on and have a super-bright 3,500 lumens light! That's by far more than what you usually have with a standard torch! In this hand-held configuration you can expect a burn time of 1.5 hours before your battery is empty.
If you are doing longer dives then instead of a standard torch configuration you can use battery packs which give you up to 6.5 hours of light before the pack is empty. There are two packs available that come in canister form. The Slimline provides enough power for 4.5 hours of burn time while the Expedition canister has enough power for a burn time of 6.5 hours at full brightness!
As a torch the light weighs 1.4 pounds. It measures 2 inches in diameter and 3.5 inches in length. The measurements and weight make it easy to handle and hold. The head can be paired with a standard metal Goodman handle. If you prefer otherwise, there's also the option to use a soft hand mount.
The table below shows the detailed information for the three different variants of the HP50 lighting system by Dive Rite:
​HP50 Handheld Torch
HP50 w/ Slimline Canister
​HP50 w/ Expedition Canister
​Burn time high/medium/low
1.5/3/30 hours
​3.25/6.5/​65 hours
​5/10/100 hours
​Size
​6.4 in long, 2.15 in diameter
​Light Head: 3.5 in long, 2 in diameter
Canister: 9 in high, 2.6 in diameter
​Light Head: 3.5 in long, 2 in diameter
Canister: 11 in high, 2.6 in diameter
​Weight
​1.4 lbs
​3.8 lbs
​4.1 lbs
Pricing is on the high side but you receive one of the brightest, if not the brightest torch light you can currently get. For dives in wrecks or caves, or if you go night diving, this is a tremendous improvement compared to many other torches you can get!
You can find out more on Dive Rite's website at https://www.diverite.com/hp50-light-system/!