Jet Fins vs Rocket Fins – Comparison of these two Iconic Diving Fins
The diving fin. A perfect example of how a few subtle changes in engineering can have a tremendous impact on what is fundamentally a piece of rubber.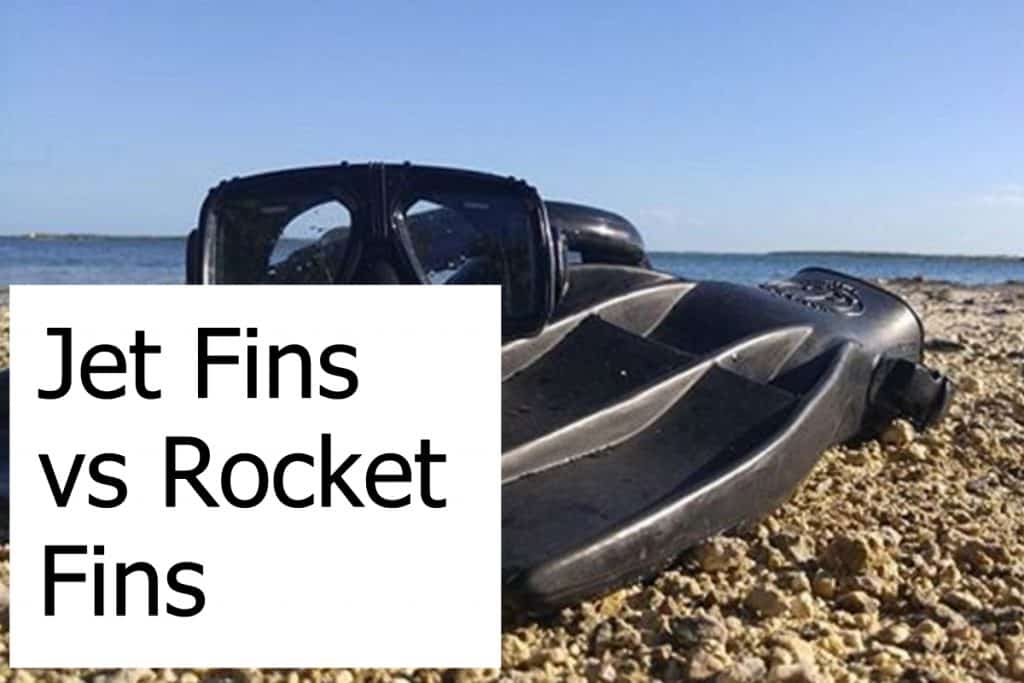 Though you would assume that scuba is more about the fancy high-tech gear and gorgeous location, a quality fin can really make all the difference when it comes to the overall experience. When you're stuck with the wrong fin, you may find yourself wishing you spent a little extra time researching the perfect fit.
Most searches for the ultimate diving fin comes down to two options: the Jet Fin and the Rocket Fin.
And, to the untrained eye, the difference between them is minimal. With their open heel, both styles are suitable for any temperature water. They both have a stiff paddle design. Both fins enjoy a long history of success, in constant competition for the title of best diving fins on the market.
So, what, really are the differences between the two iconic scuba fins?
Jet Fin vs Rocket Fin: Differences at a Glance
Let's do a quick overview of the differences when you compare the Jet fins and the Rocket fins. Jet fins have a longer blade and are more flexible. The Rockets provide more maneuverability and are stiffer.
The vents on the Jets are larger but do still provide the feeling of producing more propulsion with each kick. The Jet fin is overall more durable and more comfortable to scuba dive with.
None of these fins is considered modern. Yet, they both are still very widely used and highly regarded as some of the best scuba diving fins you can get your feet in.
Scuba Fins Buying Guide – All you need to know about Dive Flippers!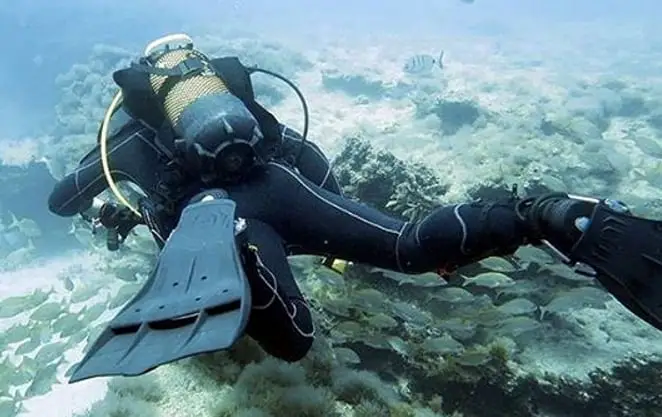 Jet vs Rocket Fins – Side-by-side Comparison
Before we go into the details, here's a quick side-by-side comparison between these dive fins:
Scubapro Jet Fins
Available in larger sizes
More flexible
Longer paddle
Practically indestructible
Large selection of different colors
Overall more comfortable to dive with
Aqualung Rocket Fins
Stiffer blades
Slightly smaller fin
Offer a little more maneuverability
Only comes in black
Rocket Fins vs Jet Fins – The Basics
Let's start by explaining the fins and looking at the basic differences between the two dive fins.
Scubapro Jet Fins​
These fins have been manufactured by the company ScubaPro for over 50 years. They're widely used in recreational settings, technical diving, and military training because of their reliability and durability. Made from thick rubber, they're characteristically stiff, requiring a pretty strong diver to make the most use out of them.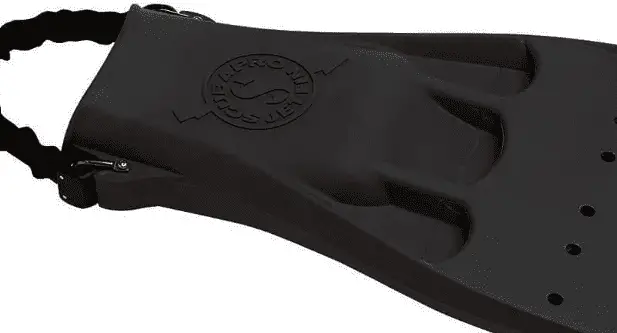 In terms of heel straps, they come in adjustable rubber or spring heel.
​Aqua Lung Rocket Fins
According to its manufacturer, Aqua Lung, these fins were the first of their kind to be sold in North America, making them a highly recognized brand. Over the years, the design has been so successful with professionals and the military, it's only been updated slightly, staying true to its unique vented blade. Like the Jet, the rocket fin has an all rubber construction to withstand rough and prolonged use.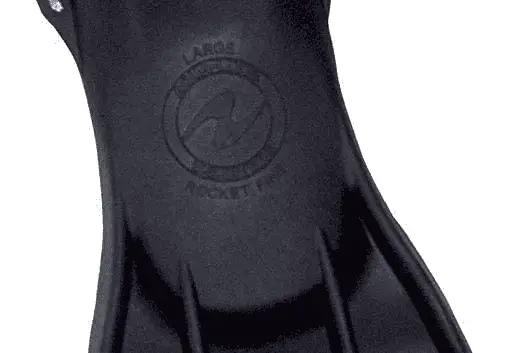 Heel straps come in traditional or quick-release buckles or the standard fin strap.
Jet Compared to Rocket Fins – Differences​
Both brands call their product the best fin available for a diver, but what differences can they point to in support of their claims? Here's the breakdown.
Rocket Fins​
Consider, first, the most obvious difference: the horizontal vented blade. This design is meant to reduce drag, making for a more energy-efficient kick.
There are two versions of this model, both with an improved foot pocket, though the more recent iteration includes a larger foot pocket with holes for drainage as well as a traction hole at the tip of the fin. They are both made of heavy-weight rubber, available only in black. Many divers can attest to the maneuverability and speed of this fin.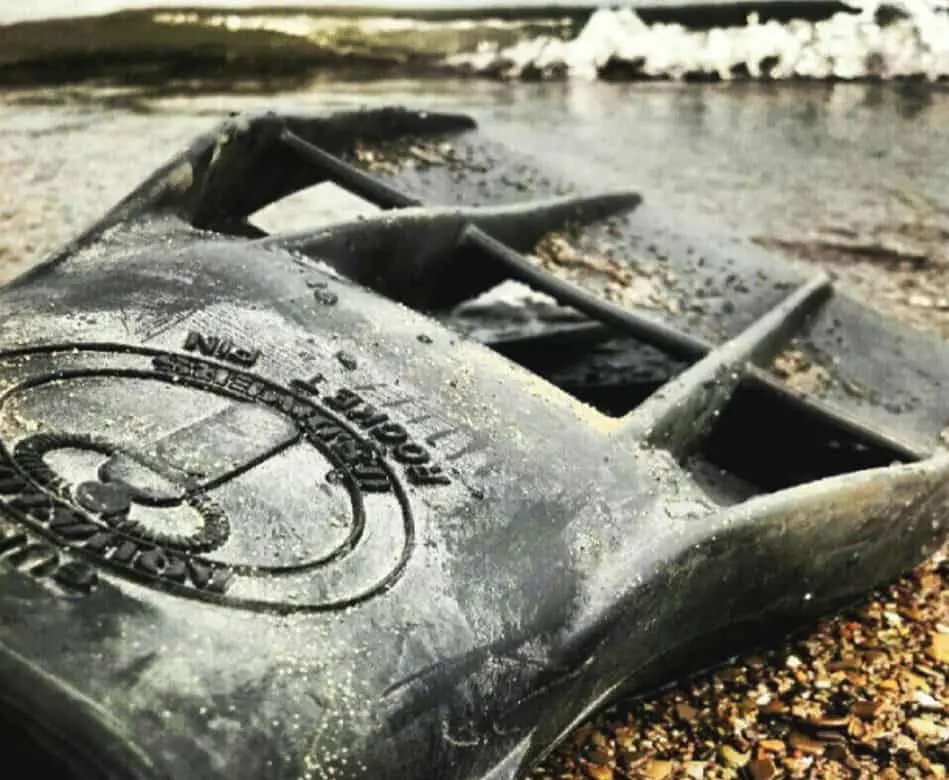 Jet Fins
Though this fin is also vented, it differentiates itself with an arched vent design with horizontal holes instead of the rectangular vents. Water is filtered through the fin in such a way as to reduce drag specifically on the down-kick reducing the amount of energy required by the diver.
Like the Rocket, this fin is also made purely of rubber, but it does come in a variety of colors, including military camouflage.
​The Choice
When it comes down to making a decision between the two, both the Jet and the Rocket are great options for any scuba diving experience. So how can you possibly choose? Here are a few final considerations when you're ready to make a purchase.
Cost​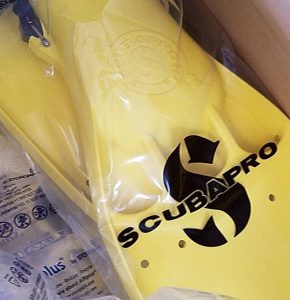 Both brands are going to cost over a hundred dollars, with the price of the Rocket ranging just under the Jet.

The Jet, on the other hand, has a number of different price points depending on the size, strap, and color.
Sizing
Finding the right size is crucial to your diving experience. You don't want your feet to be suffocated, but you also don't want too much wiggle room in the pocket. The Jet comes in sizes Medium to 3XL or US men size 8 to 14, whereas the Rocket accommodates shoe sizes 9 to 12+.
For women, those measurements are US sizes 9 to 15 for the Rocket and 10 to 13+ for the Jet. So for those with smaller feet, the Rocket is slightly more accommodating. However, neither one is a great choice for really small feet as they both start at best to fit well with a medium-sized foot.
Of course, keep in mind that you'll require scuba boots with both models, which will change your sizing a bit.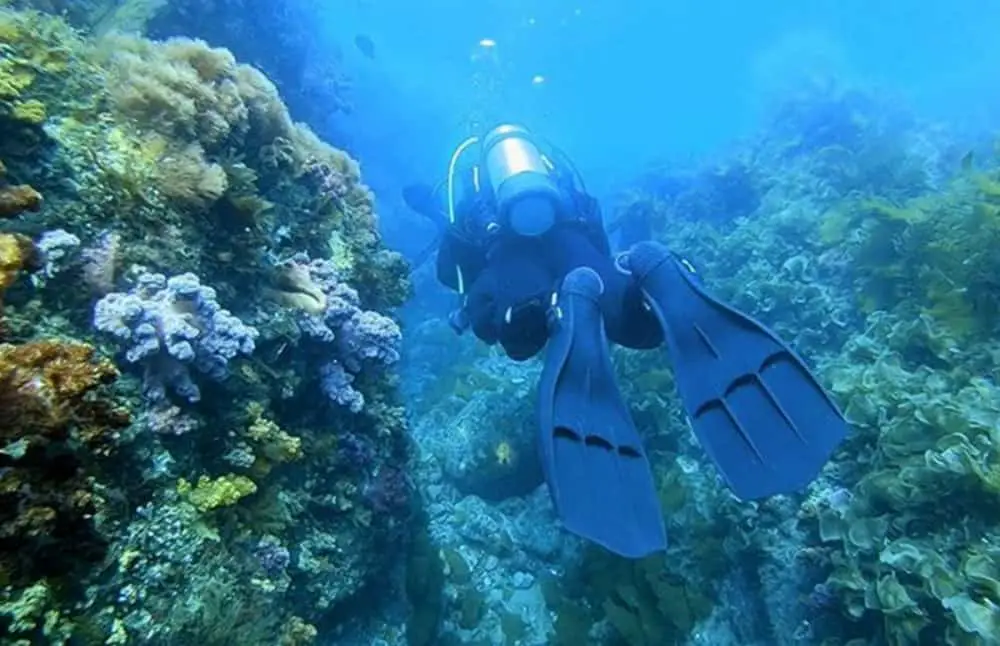 Reviews
So what are others saying about the product? Not surprisingly, both have a pretty loyal following amongst divers. Rocket Fin followers say that the fin is great for a flutter, sidestroke, and even breast stroke-type swimming, but there can be some wear-and-tear over the years.
On the other hand, Jet Fin users swear by the brand's true ability to last, not just for years, but for decades. These swimmers prefer the Jet Fin for flutter stroke, with slightly less maneuverability than the Rocket. Besides that, the SCUBAPRO Jet fins are certainly usable for other kicks like frog and dolphin kicks.
Conclusion​ – Which are the Better Scuba Diving Fins?
Clearly, there is a case to be made for either fin. With their sturdy material and thoughtful design, both the Rocket Fins and the Jet Fins are sure to withstand the toughest use in any setting a scuba diver can imagine. And while they may differ in how they reduce drag, both are well-suited for strong swimmers, under professional and military-grade conditions.
Your choice may well come down to the slight discrepancy in price or size, and the wise choice would be to listen to the advice of your fellow divers' reviews. After all, the best advice comes from experience.