Shearwater Research Recall for Yellow Wireless Transmitters
If you use one of Shearwater Research's yellow wireless transmitters, then continue on reading. The company has issued a voluntary recall for those devices.
The issue is that the yellow transmitters might end up using the same transmission interval that their grey cousins use. If you use both yellow and grey transmitters on the same dive, then there might be signal interference which can lead to the signal dropping which results in communication loss between the transmitters and the dive computer.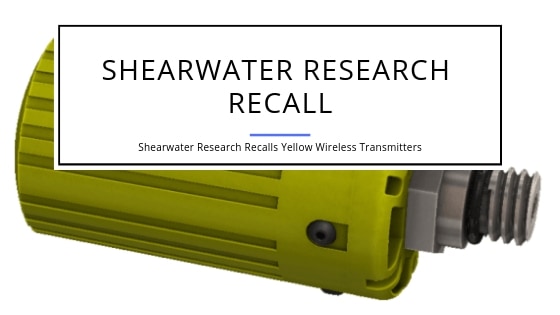 The transmitter itself is, as already mentioned, yellow. It has the letters "FCC ID: MH8A" printed on it besides a serial number. The Shearwater Research part number for the device is 13009.
If you own one of these YELLOW transmitters, then stop using them immediately. Instead, contact Shearwater Research through their website or call them during business hours.
You can find more information on Shearwater's website at https://www.shearwater.com/announcements/voluntary-recall-notice-yellow-transmitters/. The phone number to call is +1 604.669.9958. You can also contact them through email at info[at]shearwater.com. If you use the email contact, then please provide your physical location.
They will then provide you with information regarding the repair or exchange of the yellow-colored transmitter.   Get an RMA number before sending the tank transmitter. 
Please know they also sell these transmitters under different brand names. Shearwater only services and deals with those yellow transmitters that are sold under the Shearwater brand. If you have one from a different brand, then please contact that manufacturer to get further information.
If you are using a grey transmitter, then there's nothing you have to do. The grey version is not affected by this voluntary recall. Neither are any other devices from Shearwater Research like their dive computers e.g. the Teric.